By: Arlen Williams | Gulag Bound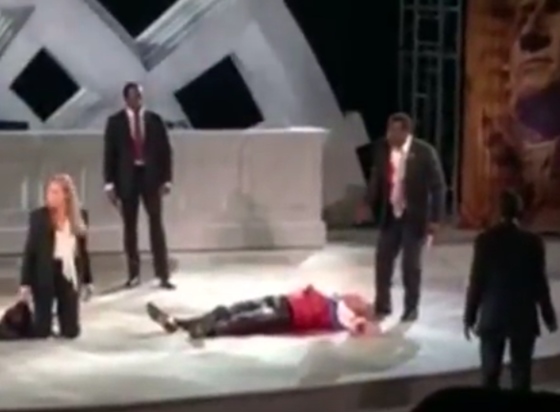 How tasteless, spiteful and gruesomely distorted of soul can progressives get?
Don't answer that! Please!
But, here's something scooped up from a few miles along the path. Via Newsmax, this (or if you're familiar with this news, just scroll to the end):
The New York Times on Monday stated that it would continue as sponsor of New York Public Theater's production of "Julius Caesar," despite a social uprising over the depiction of Caesar looking very much like President Donald Trump.

CNN parent company, Time Warner, also remains as a sponsor of the play in which Caesar, or Trump, in this case, gets assassinated at the end.
And there, they link to their July 6 story, this:
First, it was Kathy Griffin's brutal depiction of herself holding a bloody severed head of President Donald Trump; now New York's Shakespeare in the Park is casting Trump as Julius Caesar and depicting his assassination onstage.
For a video report, by Inside Edition:
Now, here in the Gulag, we do not condone violence (which of course, is to be distinguished from active defensive measures). But take note. What goes around can come around!
Via the realm of altering-right memedom and in this particular instance, @Thomas1774Paine in Twitter:
We have dispatched NYPD Detective Frank Drebin to handle the #ShakespeareCentralPark and @nytimes #Trump play debacle situation. pic.twitter.com/58I3Cy0KXF

— Thomas Paine (@Thomas1774Paine) June 12, 2017
Based.
And to life-disoriented progs on Broadway and in the greater Marxstream media… you should be wary of justice. It can come from the funniest places. Seriously.