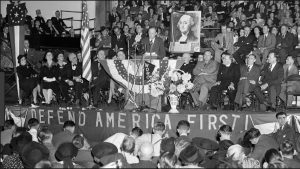 This is not a review of Victor Hanson's book, The Case for Trump. Rather, it is a passing comment on the treatment of "America First" in Hanson's case for Trump.
In discussing Trump's counter-revolutionary (my term) "America First" vision, Hanson writes:

Yes, Trump's America First vision triggered "the charge of isolationism" (not to mention apoplexy) from the Left, the Republican Establishment, sundry "progressives" and new world order types. All of the above had varyingly dominated American politics in the decades since World War II, pushing the country ever farther off of its foundations as a nation-state into the global system, whose institutional bases were, after all, established by a pair of Soviet agents, Alger Hiss (United Nations) and Harry Dexter White (IMF). Certainly, to these same globalists, it is safe to say that "the charge of isolationism," as Hanson writes, "only cemented the slur against Trump," which was spawned by vague but distasteful notions of "sullied" Lindbergh, as Hanson writes, and the America First Committee. It's notable that Hanson, the Trump case-maker, seems to share this outlook.
Indeed, he repeats their standard smears of Lindbergh and, by extension, the America First Committee. Why was Lindbergh "sullied"? Lindbergh, Hanson tells the reader, was "at best" silent as Hitler and Mussolini rose. "At worst," he was a conspiracy theorist who blamed "international Jewry" and "British monarchists" for our entry into World War II.
Continue reading