By: Denise Simon | Founders Code
Primer:
The Magistrate Court in Florida has pulled (deleted) the information related to Judge Reinhart… hee hee… you don't say.
Oh and the Judge recused himself in a RICO case Trump has against Hillary Clinton et al.
Meanwhile…
His resume includes that he studied at Princeton and the University of Pennsylvania and went on to work at the U.S. Treasury Department and in the Department of Justice's public integrity section.
As nutty as it may be, Reinhart was actually appointed by President Trump… then there is this? (making a correction here thanks to a patriot)
The process is as follows:
A U.S. magistrate judge is a judicial officer of the district court and is appointed by majority vote of the active district judges of the court to exercise jurisdiction over matters assigned by statute as well as those delegated by the district judges. The number of magistrate judge positions is determined by the Judicial Conference of the United States, based on recommendations of the respective district courts, the judicial councils of the circuits, and the Director of the Administrative Office of the U.S. Courts. A full-time magistrate judge serves a term of eight years. Duties assigned to magistrate judges by district court judges may vary considerably from court to court.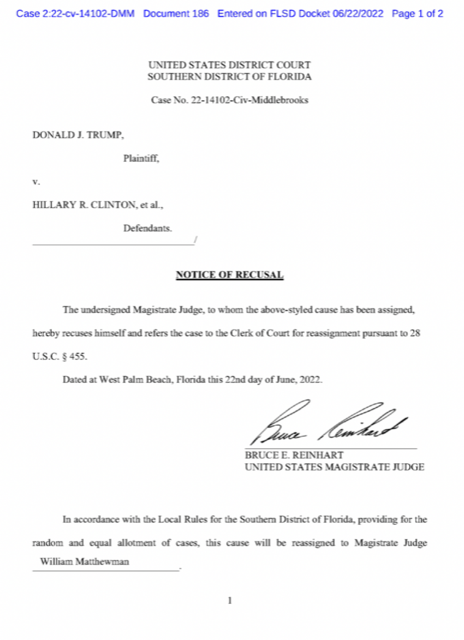 That lawsuit that Trump has in short is as follows:
Defendants who consented to the delay included the Democratic National Committee; HFACC, Inc.; DNC Services Corporation; Perkins Coie, LLC; Michael Sussmann; Marc Elias; Debbie Wasserman Schultz; Jake Sullivan; John Podesta; Robert Mook; Fusion GPS; Peter Fritsch; Glenn Simpson; Nellie Ohr; Igor Danchenko; Neustar, Inc.; and Rodney Joffe. The Trump lawsuit alleged civil violations of the Racketeer Influenced and Corrupt Organizations Act, injurious falsehood, theft of trade secrets, violations of the Stored Communications Act, and other actions — 16 in total. Clinton and a significant percentage (if not all) of the named defendants have moved to dismiss the case, mostly because the statute of limitations for the claims pressed by Trump have already passed. More details here.
The federal magistrate judge who signed the warrant authorizing the FBI raid on former president Donald Trump's Mar-a-Lago residence is a former criminal defense attorney who represented a former Democratic congressman investigated by the bureau for putting his mistress on his congressional payroll.
Government records indicate that Judge Bruce E. Reinhart, one of three federal magistrates in West Palm Beach, signed the unprecedented warrant targeting Trump, who denounced the "unannounced raid" on his property as "an assault [that] could only take place in broken, Third-World Countries."
As a criminal defense attorney, Reinhart represented Democratic congressman Tim Mahoney, a Florida lawmaker who ran on a platform of "faith, family, and personal responsibility" while carrying on a series of extramarital affairs. Mahoney subsequently came under FBI investigation for hiring one of his mistresses to work in his congressional office before putting her on his campaign payroll.
Prior to becoming a judge in 2018, Reinhart spent 12 years as an Assistant United States Attorney for the Southern District of Florida, the office tasked with investigating the pedophile Jeffrey Epstein for sex trafficking in 2005.
The federal case against Epstein ultimately went nowhere thanks to a controversial non-prosecution agreement Epstein's lawyers negotiated with the U.S. Attorney's office. While the terms of that deal were being finalized in late 2007, Reinhart opened a limited liability company in Florida listed at the same address used by Epstein's lead attorney, Jack Goldberger. Reinhart resigned from the U.S. Attorney's office on Jan. 1, 2008. Epstein hired him the very next day. Reinhart would go on to represent Epstein's pilot, scheduler, and alleged "sex slave," all of whom received immunity from federal prosecution.
Reinhart went on to serve 10 years in private practice, where he specialized in "white collar criminal defense and complex litigation." He was sworn in as a federal magistrate in March 2018 after being appointed by a majority vote of U.S. District Court judges in Southern Florida. Candidates for the position must be "a member of good standing of a state or territory's highest court bar" and are "vetted by a merit selection panel that consists of lawyers and non-lawyers from the community."
A Crime Victims' Rights lawsuit filed in 2011 argued that Reinhart violated Justice Department policy by switching sides and accused the attorney of exploiting his access to confidential information about the sex trafficking case to secure a job with Epstein. Reinhart denied having access to "confidential, non-public information about the Epstein matter," but the U.S. Attorney's office claimed otherwise, according to the Miami Herald.
Little is known about the FBI's raid on Trump's home. Reporting suggests the search was related to Trump's removal of classified material upon leaving the White House in 2021. "They even searched my safe!" Trump said in a statement. The Justice Department, which is investigating Trump for his efforts to remain in office following the 2020 election, has declined to comment publicly.
House Minority Leader Kevin McCarthy (R., Calif.) denounced the federal government's actions, arguing that the Justice Department "has reached an intolerable state of weaponized politicization." He went on to warn Attorney General Merrick Garland that GOP lawmakers would thoroughly investigate the matter "when Republicans take back the House" in 2023.
White House aides claimed they were not informed of the FBI's intentions prior to the raid and learned about it on Twitter.
*** Newsweek in part has:
Those employees reportedly included pilots, a scheduler named Sarah Kellen, and a woman whom some of Epstein's victims said was his sex slave, according to a 2018 report in The Miami Herald.
The newspaper also reported in 2011 that Reinhart was named in a lawsuit and accused of violating Justice Department policy by representing the Epstein employees. He denied any wrongdoing and said he didn't participate in the criminal case against Epstein or learn any confidential information while working as a federal prosecutor.