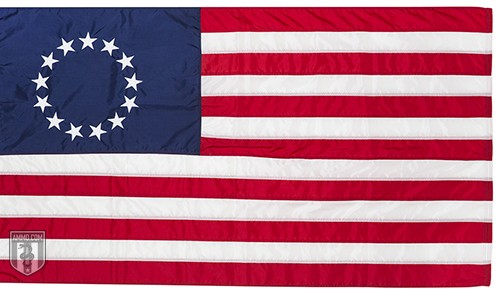 Second only to Old Glory itself, the Betsy Ross Flag is the American icon. Its clean design is similar to our current flag, with 13 stripes and only 13 stars in a circle (representing the equal status of what were then the 13 united individual sovereign nations). This simplicity is perhaps the reason for its popularity among American Patriots and Constitutionalists, as it hearkens back to an earlier time when America was still a place of freedom and resistance to tyranny.
But while this flag is the oldest attested flag for the American nation, many people don't know its history. Who was Betsy Ross? And how did this iconic design become one of the strongest symbols of freedom?
1. Betsy Ross was shunned by Quakers and her family.
A Quaker like many in Pennsylvania, Betsy Ross was born Elizabeth Griscom. Once her education in public school ended, her father had her apprenticed to an upholsterer. It was at this job that she met her future husband, John Ross – an Episcopal and brother of George Ross, who signed the Declaration of Independence. Since the Quaker community frowned upon inter-denominational marriage, the two eloped when Betsy was 21 years old.
After the elopement, Betsy was estranged from her family and expelled from her Quaker congregation. Her husband died a few years later during the Revolution. (Some have speculated that Betsy was the "beautiful young widow" who caught Carl von Donop's eye after the Battle of Iron Works Hill.) It was after John Ross' death that Betsy rejoined the Quakers – this time the Free Quakers, fighters who supported the war effort.