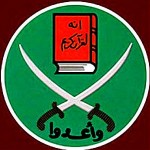 More on the unholy alliance in the Obama White House from Pamela Geller's Atlas Shrugs:
Sunday, August 14, 2011

OBAMA'S RAMADAN DINNER GUEST LIST HIDES ATTENDANCE OF STEALTH JIHADISTS TIED TO HAMAS AND MUSLIM BROTHERHOOD

Obama's seditious Ramadan dinner is the consummate achievement of the stealth jihad. Allahu FUBAR!

First, I blogged that Obama honored the sacrifices that Muslim Americans made on 911 and "the sacrifices that Muslim Americans have made for the country," while not pointing out their true contribution to America.

If that wasn't subversive enough, we discover that the Obama White House is covering up the Muslim Brotherhood proxies and stealth jihadists at the Ramadan celebration bombathon.

Why are they hiding? Because they know. And they know that we know.

Obama's Iftar guest list omitted attendees with links to Hamas and Muslim Brotherhood Jihad Watch

But they were there. ISNA has admitted ties to both Hamas and the Muslim Brotherhood. "Obama's Iftar guest list omits controversial attendees," by Neil Munro in the Daily Caller, August 11:

The White House's published guest list for this year's Ramadan Iftar dinner was much shorter than previous years' roster. It excluded the names of several controversial advocates who have attended the event in the past, including some who The Daily Caller can confirm did attend on Wednesday night."It was a squeaky clean list," said Durriya Badani, director of the U.S.-Islamic World Forum, an annual event organized by the Brookings Institution's Saban Center and the Qatari government. The guests on the published list are "not controversial at all," said Badani, whose name is on the list the White House provided to reporters.

"It was a lot more low-key … It was a more intimate event this year," said Haris Tarin, the Washington director of the Muslim Public Affairs Council, whose invitation was kept off the published list. "I have no idea why they didn't publish [MPAC's invite] … I'm going to learn about that a little bit more," he told The Daily Caller.
h/t: @RUSHLvR1