It's going on 72 hours since I've posted – the longest interval I've gone without a posting since this war with Hamas began.  In that period, as I have attempted to track what is happening, I felt as if my head was spinning 350 degrees. Round and round.
Here I only intend to review the essential outline of what has been transpiring and then look at the bottom line basics that matter most.
~~~~~~~~~~
In the period leading up to Shabbat, on Friday, Israel was said to be considering a proposal for a week long ceasefire that had been put on the table by Kerry.  In the end, that proposal was unanimously rejected by the Israel Security Cabinet; its members were, to a person, furious: Kerry had come out solidly on the side of Hamas.

Communicating with representatives of Qatar and Turkey in putting together his proposal, Kerry had, in the words of unnamed Israeli sources cited by Times of Israel, "'dug a tunnel under the Egyptian ceasefire proposal' — which Israel accepted and Hamas rejected last week — and presented the Israeli government with a text that accepted 'most of the demands' raised by Hamas…
"To the 'horror' of the Israeli ministers, the Kerry proposal accepted Hamas's demands for the opening of border crossings into Gaza — where Israel and Egypt fear the import of weaponry; the construction of a seaport; and the creation of a post-conflict funding channel for Hamas from Qatar and other countries, according to the sources. The proposal, meanwhile, did not even provide for Israel to continue demolishing the Hamas network of 'terror tunnels' dug under the Israeli border. (All emphasis added)
http://www.timesofisrael.com/kerry-completely-capitulated-to-hamas-in-ceasefire-proposal-says-israel/
"Channel 2′s diplomatic reporter Udi Segal said 'voices"' from the cabinet had described Kerry as 'negligent,' 'lacking the ability to understand' the issues, and 'incapable of handling the most basic matters.'"
I myself think describing Kerry thus is cutting him too much slack. He is not the rocket scientist of the diplomatic world, true. But he's not so foolish that he cannot perceive the implications of failing to call for demolishing the terror tunnels into Israel.  What we are seeing is not an attempt to stop the fighting that is simply lacking in conceptual clarity. We're seeing an ally of Hamas express his distain and malice toward the people of Israel.  Make no mistake about this, or about the fact that Kerry speaks for the man in the White House.
Times of Israel editor David Horovitz calls what Kerry did a "betrayal," and says the result is that "Jerusalem now regards him as duplicitous and dangerous."
http://www.timesofisrael.com/john-kerry-the-betrayal/
This is an awakening that I see as all to the good.
~~~~~~~~~~
Subsequent to this, Kerry went to Paris where he met with representatives of Qatar and Turkey to "continue working" on the ceasefire.  I believe he met there as well with Ban Ki Moon, whom my readers know well as another duplicitous anti-Israel diplomat.
Should you feel inclined (you many not), you can see here a recent video of a press conference with Netanyahu and Ban. Our prime minister very vividly lays out the picture of what we are contending with regarding Hamas, after which Ban professes sympathy and then advises us that we cannot solve the problem until there is no more "occupation" and a "two state solution."  We should start talking to each other.
https://www.youtube.com/watch?v=qG-abT0lYYM
Today, Ban made a comment about how the people of Gaza have suffered enough.  As if we were causing that suffering on purpose and calling a halt to it is all that matters.
~~~~~~~~~~
After Israel rejected the week-long ceasefire that had been proposed by Kerry, Ban Ki Moon, in Paris, working with other "diplomats," called for a short humanitarian ceasefire – to allow supplies to be brought in and the dead to be brought out – to be honored from 8:00 AM to 8:00 PM yesterday. That was accomplished.
The UN then asked that the ceasefire be extended for another day.  We agreed to four more hours. But at 8:01 PM Hamas started firing again, declaring that "We didn't agree to an extension."  In spite of this, we held our fire.
Yet another extension – another day – of ceasefire was then requested and at about midnight last night the Security Cabinet met again (they are in very frequent session) and voted to agree to that further extension – I believe 20 hours – even though it was a one-sided ceasefire.  It was about at that point that I went into my WHAT ARE THEY DOING? mode.
Today we started shelling in Gaza again, because Hamas did not honor the ceasefire and enough was enough.
~~~~~~~~~~
AFTER we started shooting again, Hamas suddenly decided a ceasefire was a good idea after all, and called for it to be mutually instituted. This time Netanyahu said, Nothing doing.  Hamas had violated five ceasefires, two in the last 24 hours. Just since midnight last night, Hamas has launched over 40 rockets.
http://www.israelnationalnews.com/News/News.aspx/183396#.U9Ue15vlrIU
~~~~~~~~~~
One can readily see, reading this description of what has been transpiring, how the head might spin.  But the precise details are not important – it's the bigger picture that matters.
There have been many questions raised about how much work was being done on dismantling the tunnels during times when we were holding fire.  I've gotten different reports on this from various sources, but my sense is that very little was done.  Thus do these "humanitarian" ceasefires unsettle me because they have the potential to shut us down a little at a time.  Before everything we have set out to do has been done.
~~~~~~~~~~
However, in the end, it's not just about dismantling the tunnels we have uncovered: The stark truth is that we are not going to get all of the tunnels.
Several times I have a great sense of unease as our prime minister has said, "We are moving ahead with our goals, but there is no guarantee we will get 100% of the tunnels."  And slowly, the picture has become clear.
Reports say we have identified about 35 tunnels.  I cited a report from Steve Emerson the other day that said the Americans, utilizing infrared censors in a satellite, had identified 60 tunnels.  Just today I picked up reliable information that, from the terrorists we have arrested in Gaza, we have learned that there are somewhere between 70 and 100 tunnels.
What is more, we are not fully dismantling all of those tunnels we have identified – a difficult job because of that reinforced concrete.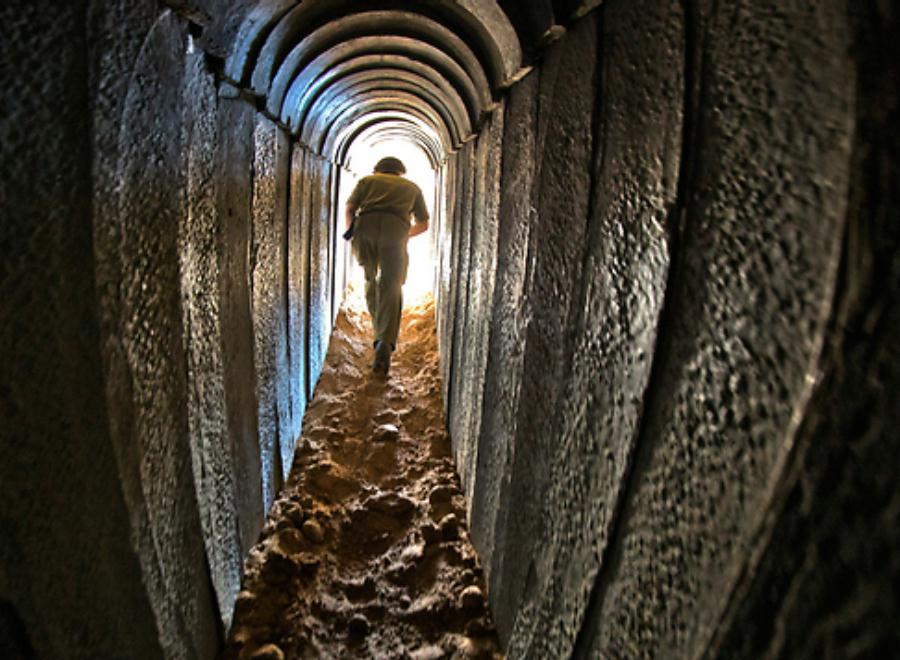 We are, at least in some cases, apparently doing such things as detonating charges at the mouths of tunnels and pouring sand into them.  Is it far fetched to wonder whether some of them would be able to be reinstated as working tunnels with some effort by Hamas?
~~~~~~~~~~
Preventing Hamas from using these tunnels is the top priority now.  A major story has been making the news about what Hamas had planned.  I've heard alternately that written plans for this were picked up inside of some of the tunnels, or that the information came from some of the terrorists who have been captured.  I cannot verify the story and thus normally would not even mention it.  But it sounds like something Hamas might have been planning. They didn't build the tunnels for recreation.  If it wasn't this, it would be something similar:
"Hamas had apparently been preparing a murderous assault on Israeli civilian targets for the coming Jewish New Year Holiday, Rosh Hashanah, which begins on September 24, according anonymous sources in the Israeli security services, as reported today by the Israeli daily Maariv.
"The Hamas plan consisted of what was to be a surprise attack in which 200 fighters would be dispatched through each of dozens of tunnels dug by Hamas under the border from Gaza to Israel, and seize kibbutzim and other communities while killing and kidnapping Israeli civilians." (Emphasis added)
http://www.gatestoneinstitute.org/4516/hamas-mega-attack
~~~~~~~~~~
So, if we take out 45 tunnels and 15 or 20 remain – each with several exit points in Israel?  It does not bear thinking about.  But we have to think about it.
Other means must be devised for preventing this.  The threat must be finished.  And it remains the responsibility of the government to do so.

~~~~~~~~~~
It is very much to the good that Netanyahu is saying that the only ceasefire proposal on the table is Egypt's, and that the rehabilitation of Gaza will depend on its demilitarization:
http://www.jpost.com/Operation-Protective-Edge/Netanyahu-Future-funds-to-rebuild-Gaza-must-be-linked-to-its-demilitarization-369066
There is, as well, the need for the development of techniques at the Gaza border on our side that will reveal any underground activity, or interfere with it.  There are many cutting-edge engineers we can draw upon. We think out of the box: We need the attention and the dedication to see this through.
~~~~~~~~~~
What I ask, then, is that you please write to PM Netanyahu. Let him know that you are with him as he stands strong – that standing strong against all demands that weaken Israel is imperative.  Tell him that the job must be done right.  Hamas must be sufficiently weakened or eliminated, so that it is no longer a threat to Israel. In particular, Hamas must be totally blocked from its ability to attack Jews in Israel via tunnels. The nation of Israel is depending upon him; and the Western world requires his model of strength and determination.
E-mail: [email protected]  also [email protected]  (underscore after pm) use both addresses.
~~~~~~~~~~
The rockets also must be contended with.  Some tens of thousands remain (in truth, we cannot be certain precisely how many).  They present less of an immediate threat than the prospect of large scale attacks via tunnels because of Iron Dome and our use of shelters. But this threat, too, must be eliminated.
You will note that a constant refrain of Hamas is that their borders must be opened. This would facilitate the transfer of more rockets into Gaza.  And I mention here that Hamas reportedly expects to acquire new rockets from North Korea:
"Hamas [has] signed an arms deal with North Korea in order to replenish its depleted rocket arsenal…according to The Telegraph.
In an exclusive report the British paper sited senior security sources who claimed that the deal, worth hundreds of thousands of dollars, had already been signed, having been made via Lebanese intermediaries.  Hamas has reportedly made an initial down payment in cash to Pyongyang, and is hoping for an imminent delivery to Gaza."
http://www.israelnationalnews.com/News/News.aspx/183374#.U9U6opvlrIV
These plans signal the attitude of Hamas leaders – they are not feeling defeated, but want to pick and go on.  Our methods of dealing with them must be informed by their attitude.
~~~~~~~~~~
As of today, 43 of our soldiers have died.
~~~~~~~~~~
A new poll indicates that 86.5% of Israelis do not want a ceasefire now.
http://imra.org.il/story.php3?id=64491
The spirit of the nation is incredible, as people gather to pray for the soldiers, and pack gift packages to bring to them. Almost everyone is involved somehow.