Sometimes a situation is so horrific that it renders one speechless.  Such was the attack by Israeli Arabs on innocent Jews praying in Jerusalem this morning.  And so, I'm going to start with photos, which provide greater impact than my words alone would.
Once I would have apologized for provided such graphic illustrations.  No more. The world must "get the picture," figuratively as well as literally.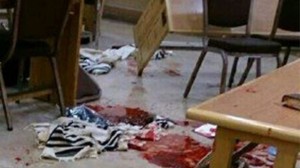 Credit: preoccupiedterritory

~~~~~~~~~~
Jews went to pray this morning in a major synagogue connected to a yeshiva on Aggasi Street in Har Nof, a largely ultra-Orthodox neighborhood on a hill in western Jerusalem.
Two Israeli Arabs entered, bearing guns and meat cleavers and knives.  Calling "Allahu Akbar," they proceeded to massacre those who were praying.
Please note the fact of meat cleavers.  This is about more than "just" killing Jews.  For that guns would have sufficed.  How do I – struggling for adequate words – convey to the world what is going on?  How do I get people to understand what we are dealing with here?
Credit: Kobi Gideon/GPO/FLASH90
~~~~~~~~~~
ZAKA is an Israeli organization that, among other things, gathers tissue and blood from attacks, to be interred with the deceased according to Jewish law.  A member of ZAKA today commented that he has been at scenes where more people had been murdered, but he had never seen a bloodier or more gruesome scene than the one today.
Some worshippers were lying in blood on the floor with their tallitot (prayer shalls) and tefillin still on.

Credit: GPO
~~~~~~~~~~
In the end, four were killed:
Rabbi Moshe Twersky, 59, Rosh Kollel for the Torat Moshe yeshiva and grandson of the great Rav Soloveitchik; Rabbi Kalman Levine, 55; Rabbi Aryeh Kupinsky, 43; and Rabbi Avraham Shmuel Goldberg, 68. Rabbi Goldberg had dual Israeli-British citizenship; the other three were American-Israeli.
May the Almighty avenge their deaths.
At least eight others were injured, including two police officers.  Four are serious to critical.
~~~~~~~~~~
All four of the victims lived on Aggasi Street. "On one street, four widows and 24 orphans were left," the head rabbi of the community, Yitzhak Mordechai Rubin, said at the funeral of Rabbi Twersky.
Credit: JPost
Rabbi Twersky's funeral, the first held, was attended by thousands. The other three funerals, also heavily attended, were held shortly thereafter.
~~~~~~~~~~
The two terrorists were shot dead by police.  They were Rasan and Oudai Abu Jamal, cousins from the problematic Arab neighborhood of Jabel Mukaber in eastern Jerusalem. They are reportedly related to terrorist Jamal Abu Jamal, who was released from prison as part of a "gesture" to Abbas and subsequently re-arrested.  As I've indicated before that terror is often a "family affair."
According to various reports I've picked up, one of the terrorists worked in a small grocery store (a makolet) just next door to the synagogue.  (More on the significance of this below.)
~~~~~~~~~~
Security forces went into the Jabel Mukaber neighborhood today, where they met resistance.  I believe some family members were arrested. The terrorists' homes will be demolished and I believe their wives may be expelled.  But note this, please:
The families hailed the terrorists as heroes and martyrs, and passed out candies to celebrate: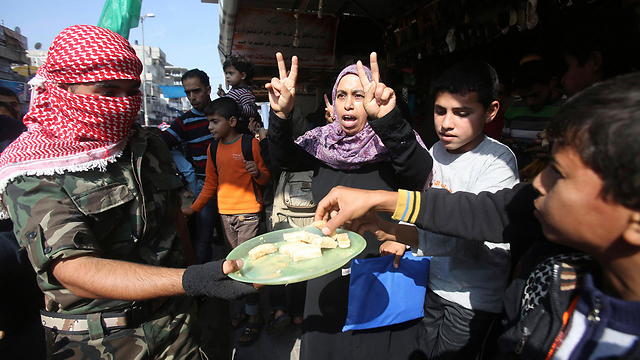 Credit: Reuters
Yet another cousin of the terrorists, Alaa Abu Jamal, said:
"This occurred because of the pressures of the occupying Israeli government on the Palestinian people and in Jerusalem generally, and the ongoing harm to the al-Aqsa mosque; this act is something normal for any person who is connected to his people, to courage and to Islam.
"We got the usual death notification and we shouted with joy, people here also handed out candies to guests who came to visit and were happy for the martyrs."
http://www.ynetnews.com/articles/0,7340,L-4593292,00.html
~~~~~~~~~~
I have noted the language of this creep carefully.  He says the act is "normal" for any person connected to Islam.  I've seen this word used again and again.  Oh? Arab residents of Jerusalem throw stones at the Light Rail? That's "normal."
Think, think carefully and deeply about what it says that a Muslim Arab can describe the horrendous murder of innocent men at prayer as "normal." It wasn't excused as an aberration, as the desperate act of people who are demented or deluded.  "Normal."  And a cause for shouting with joy, yet.
~~~~~~~~~~
As to Abbas, he was under sufficient pressure from various sources – including the US – that he felt the need to at least appear to condemn the attack.  But note how he did it:
"The Palestinian presidency has always condemned the killing of civilians on both sides, and condemns today the killing of worshipers in a house of worship in west Jerusalem.
"It also condemns all acts of violence from whatever source and demands an end to invasions of Al-Aqsa mosque, to the provocations of settlers, and to the incitement of certain Israeli ministers." (Emphasis added)
http://www.israelhayom.com/site/newsletter_article.php?id=21553
This is no condemnation.  It is additional incitement.  "Invasions" of the mosque?  "Provocations" of settlers?
Netanyahu went out of his way to calm things by meeting with Kerry and King Abdullah.  He made a point of saying there would be no change in the status quo on the Mount.  It does not matter.
~~~~~~~~~~
I note a bitter irony here.  NO terrorist attack is ever justified in any terms. But in this instance there was no justification even from the Palestinian Arab perspective, although they pretend there was.  The people who were killed lived and were praying in western Jerusalem. They were peaceful people – heads of institutions of study and the like. They were not "settlers" or radicals.  They are not even the sort of people who were likely to visit the Temple Mount.  And so?
This attack was random on purpose: designed to foment terror precisely because of its unpredictable nature.
~~~~~~~~~~
There was one other incident that was hauled out as the "reason" for the attack.  And for this I must backtrack a bit.
On Sunday night, an Israeli Arab bus driver, Yusuf Hassan al-Ramouni, hung himself in his bus, which was parked overnight in the Egged bus company terminal in Har Hotzvim – an industrial area of northern Jerusalem. Police investigating found no signs of foul play and strongly suspected a suicide.  None the less, rumors flew that Jews had killed this man, and riots ensued in at least three Arab neighborhoods.
An autopsy was done (and I believe members of the family were permitted to be present); it concluded that cause of death was suicide.  Made no difference. One relative of the deceased declared: "Eye witnesses told us they saw three Jews who murdered him. Unfortunately, the Israeli police is ignoring the murder and claiming my relative hanged himself."
~~~~~~~~~~
Hamas spokesman Sanu Abu Zuhri put out a statement that declared (emphasis added):
"The operation in Jerusalem is a response to the murder of the martyr Yusuf Ramouni [the bus driver] and to the series of crimes by the occupier at Al-Aqsa and Hamas calls to continue these operations. Hamas calls for more operations like it."
http://www.timesofisrael.com/hamas-and-islamic-jihad-praise-jerusalem-attack/
According to Israel Hayom, Hamas "urged all Arabs who have Israeli ID cards to infiltrate public places [their ID cards making it easier for them to move about] and use any weapons at their disposal." (Emphasis added)
http://www.israelhayom.com/site/newsletter_article.php?id=21553
~~~~~~~~~~
What I discovered out on the Jerusalem street today was rage. Grief, yes. Sadness, yes. But a particular rage.  I know the feeling well.
Netanyahu has met with the Security Cabinet but I have nothing concrete yet regarding actions to be taken.  There is talk of bringing more security forces into Jerusalem, of guards at all synagogues, etc.
What is understood by those of us who feel rage is that it is time for the Arabs to be afraid.  Only then will they stop.
~~~~~~~~~~
Condemnations of the attack have come from many quarters.
What a visibly shaken Kerry said earlier today was laudable – strong and appropriate in tone. He actually fingered Palestinian Arabs:
"Innocent people who had come to worship died in the sanctuary of a synagogue. They were hatcheted, hacked and murdered in that holy place in an act of pure terror and senseless brutality and murder. I call on Palestinians at every single level of leadership to condemn this in the most powerful terms. This violence has no place anywhere, particularly after the discussion that we just had the other day in Amman."
http://www.theyeshivaworld.com/news/headlines-breaking-stories/272106/kerry-condemns-har-nif-terror-attack-calls-it-pure-terror-and-senseless-brutality-in-act-of-pure-terror.html
But please note what Obama said:
"At this sensitive moment in Jerusalem, it is all the more important for Israeli and Palestinian leaders and ordinary citizens to work cooperatively together to lower tensions, reject violence, and seek a path forward towards peace.
"…tragically, this is not the first loss of lives that we have seen in recent months. Too many Israelis have died, too many Palestinians have died.  Obviously, we condemn in the strongest terms this attack."
http://www.israelnationalnews.com/News/News.aspx/187606#.VGuF6ptxnIU
Even now, moral equivalency.  "Too many Israelis, too many Palestinians."  The Israelis died in terror attacks, the Palestinians were in the main shot for perpetrating attacks.
And so – with the permission of my readers – I will drop my professional cool for a moment at the end of this long day, and simply say, damn him.
~~~~~~~~~~
A long and difficult but very necessary posting.  I will close with two additional links that demonstrate ways in which international media in some instances downplayed what happened:
http://www.jpost.com/Arab-Israeli-Conflict/Guardian-deletes-reference-to-Palestinians-CNN-labels-synagogue-mosque-382139
http://www.israelnationalnews.com/News/Flash.aspx/309351#.VGuK1JtxnIV
This too we must contend with.