It's not dissipating, folks, but rather getting worse. Not an enormous surprise.
Here, I hope simply to touch on a few points, starting with a correction: In yesterday's post, where I intended my very first reference to Arafat, I wrote "Abbas" instead. Thanks to all who caught this.  I think everyone understood what I meant to say.
~~~~~~~~~~
We're looking at knife attacks. The most recent reported, in Gan Shmuel in the north near Hadera.  The attacker hit one person with his car, and then jumped out and knifed three others, including a 14 year old girl; a 19 year old woman who was stabbed is in critical condition.
And riots – pictured is a clash outside of Beit El two days ago.
And now a failed car bombing as well: This morning, on the road between Ma'aleh Adumim and Jerusalem, a bomb went off in a car driven by a Palestinian Arab woman with Jerusalem residency.  It was originally reported that the bomb went off by mistake.  Now I'm reading an update that says she was approached by police officers and cried "Allahu Akbar" and then detonated the bomb.  In any event, a search of the car revealed other bombs in addition to the one she deliberately detonated.  It is assumed that she was heading for a suicide bombing in central Jerusalem.  She did not die in the explosion but is in critical condition.
~~~~~~~~~~
I'm seeing some official government attempts to be tougher, all of which are good, but none of which are enough. E.g.:
[] A four year minimum sentence will be imposed on those who throw rocks, fireworks or firebombs; fine may be imposed on minors and their parents.
[] A massive call-up of Border Police is taking place, with 1,300 – 2,000 extra police being deployed in sensitive areas.
~~~~~~~~~~
The incitement continues, and I am very weary of reports on how Abbas is trying to calm matters down.
Yesterday, Fatah, Abbas's party, issued flyers celebrating the "martyrs" who had died after attacking Jews.  Note the pictures of Abbas and Arafat.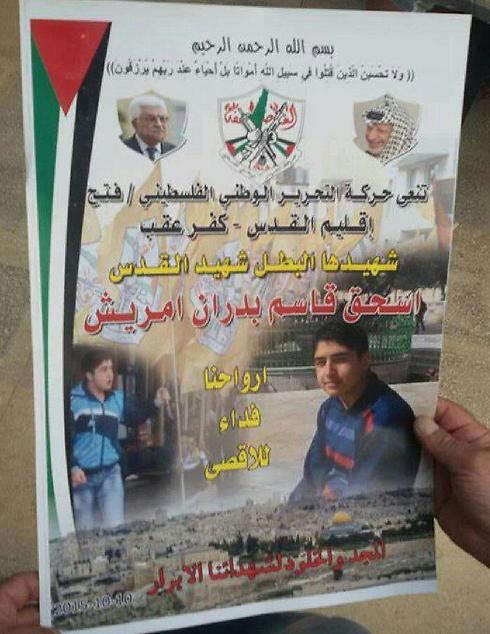 Credit: YNet

~~~~~~~~~~
And now Hamas has actively joined.  Hamas leader Ismail Haniyeh on Friday called for "strengthening and increasing the intifada…it is the only path that will lead to liberation."
http://www.israelnationalnews.com/News/News.aspx/201651#.VhqYfJuhfIU
Also on Friday, Sheikh Mohammad Abu Rajab, during a sermon in the Al Abrar Mosque in Rafah, Gaza, demonstrated the way to stab a Jew.
~~~~~~~~~~
I am also weary of hearing about how we have to give the Arabs "hope," which is what the push for negotiations is ostensibly all about.  The catch: every time there have been negotiations, terror has increased, with some of the worst attacks occurring during the Oslo years when (as I wrote yesterday) Israel was making major concessions, including on the division of Jerusalem.  Violence increases when Israel seems weak, and it is aimed at Israel's destruction.

~~~~~~~~~~
One of the more troubling and complex elements of this situation is the fact that Israeli Arabs are involved, both in the attacks and in the incitement.  I believe the attacker in Gan Shmuel is an Israeli citizen, for example.
Israeli Arabs – who live with more rights and freedom than any other Arabs in the Middle East – are not participating because they lack "hope."  There is radicalism within this population, recruitment by Hamas, and more.  Prevalent among the radicals are those of the Islamic Movement of Israel.  This movement should have been declared illegal a long time ago, and Netanyahu is now looking towards taking this action.
~~~~~~~~~~
Yesterday, there were major riots in the Israeli cities of Ramle and Nazareth.  In Nazareth, 1,500 Arabs took to the street to protest the "occupation."  What occupation are they referring to?
There are two answers to this.  Either these Arabs identify with the Arabs of the PA. Or…they believe that ALL of Israel, even within the Green Line, is "occupied" because the Arabs should control everything and the Jews should be gone.
See this by Itamar Marcus, director of Palestinian Media Watch (with echoes of my report yesterday, emphasis here added):
"…Along with teaching that Jaffa is Palestine, the PA informs its people of the step-by-step strategy for liberating Jaffa and the rest of Israel from 'occupation.' For example, Fatah leader Abbas Zaki, a close associate of PA President Mahmoud Abbas, stated that 'establishing a Palestinian state on the 1967 lines is being negotiated by the PA because everyone knows that Israel cannot survive in the 1967 lines and will "come to an end."
"'Israel will come to an end. If I say that I want to remove it from existence, this will be great, great – it is hard. This is not a [stated] policy.
"'You can't say it to the world. You can say it to yourself.' (Al Jazeera TV, September 23, 2011)
"The Palestinian population has accepted the message that the leadership's ultimate goal is to conquer Jaffa, Acre and all of Israel 'in stages.' A poll conducted by the Washington Institute last year found that 60 percent of Palestinians believe that the 'five-year goal should be to work toward reclaiming all of historic Palestine, from the river to the sea.'
http://www.jpost.com/Opinion/Why-is-Jaffa-being-attacked-421361.
~~~~~~~~~~
And, I ask, without a trace of irony: What do we do when part of the population of Israeli Arabs accepts the PA message and looks forward to the day when Israel will be destroyed?
~~~~~~~~~~
Interior Minister Silvan Shalom says he will work to revoke the citizenship of Israeli Arabs who are involved in terror.

Credit: Flash 90

It's a very welcome start. The problem is that this is after the fact.
~~~~~~~~~~
Nothing is more outrageous, more deeply offensive than those Israeli Arabs who are members of the Knesset, and continue to adhere to an anti-Israel line.  There are several of whom this is true, but the one that stands out is Hanin Zoabi, who has consistently embraced pro-Hamas and anti-Israel rhetoric.

Credit: aljazeera

The other day, Zoabi was cited by Hamas's official journal as saying:
"Hundreds of thousands of worshipers should go up to Al-Aksa in order to face down an Israeli plot for the blood of the East Jerusalem residents. Today there are actions only by individuals and what is needed is popular support.  If only individual attacks continue without popular support, they will sputter out within a few days. Therefore the outpouring of thousands of our people will make these events a real intifada."
http://www.israelnationalnews.com/News/News.aspx/201703#.Vhq9lZuhfIU
An enraged Netanyahu ordered a criminal investigation of Zoabi.
The investigation had better lead to criminal charges. She should have been tossed out of the Knesset on her ear a long time ago.
~~~~~~~~~~
Additionally, MK David Bitan (Likud) is introducing legislation that would levy fines of hundreds of thousands of shekels on MKs who incited to violence.
~~~~~~~~~~
Two (unconnected) thoughts here, before closing:
The PA is notoriously corrupt. With all the radicalization of the Arab population of PA areas, I have no doubt that a good deal of the anger that is being vented has been generated by that PA corruption, with its failure to provide for the people.  Easier, is it not, to be furious at Israel.
~~~~~~~~~~
Note that Zoabi was speaking of Al Aksa. At the core of the incitement there continue to be the fallacious charges of Israeli intentions of taking over the Temple Mount.  The goal here is to spark violence that drives the Jews off the Mount.
Note what Zaki, cited above, said about Israel not being able to survive within the '67 lines and thus coming to an end if pushed back to those lines. This is the reality behind the incitement regarding the Temple Mount.  They know that Israel would not survive without that ancient historical and religious site of the Jewish people.  Attempts to drive Israel from the Mount are intended as a step towards her destruction.
~~~~~~~~~~
And tonight's good news:
"European satellite operator Eutelsat Communications and social media giant Facebook said Monday they are working jointly to deliver satellite broadband Internet to connectivity-hungry sub-Saharan Africa using an Israeli satellite…
"The multi-million dollar AMOS-6 satellite, built by the Israel Aerospace Industries, will be ready for launch in 2016, according to Facebook CEO Mark Zuckerberg."
http://www.timesofisrael.com/facebook-to-launch-israeli-satellite-to-bring-internet-to-africa/

Credit: Mark Zuckerberg