Yesterday was a horrible day with regard to terror attacks.  Jerusalem was quiet except for one foiled attack – I think Netanyahu was correct in saying that extensive work in the city, including deployment of many security forces, has had a positive effect. The attacks are taking place mainly in Judea and Samaria, outside Ma'ale Adumim, and the Gush Etzion area, Yitzhar, on Route 60, etc. etc. There were five attacks that wounded six – all police and soldiers, one critically. Knifings and car attacks. For the first time there was an attempted attack in Beit Shemesh.
~~~~~~~~~~
Said IDF Chief of Staff Lt.-Gen. Gadi Eisenkot in a Channel 2 interview yesterday:
"There is no focused, clear solution to this kind of challenge.
"There is an integrated, multi-dimensional response. I believe that a solution to this problem will be found, even if it takes time."
http://www.jpost.com/Arab-Israeli-Conflict/Five-West-Bank-terrorist-attacks-leave-6-Israelis-wounded-428687
Not encouraging for those of us weary of all this and eager to see a strong hand raised against those who threaten us. Rightly or wrongly, this is not the way our government is going to play it.
~~~~~~~~~~
The response of the international community is both tiresome and infuriating: So many words, so many platitudes, so much that distorts rather than seriously confronts the reality.  We are facing evil and hatred, and a desire to eliminate Israel (much more on this below).  German Chancellor Angela Merkel, meeting with Netanyahu in Berlin yesterday, declared that she expects Abbas to condemn acts of terrorism.  That's nice.  As Netanyahu pointed out, Abbas has not condemned a single one.
Merkel also said, "Israel has the obligation to protect its citizens, but the means have to be commensurate with the goals."  (Emphasis added)
Here we go again, with the "proportionate" mentality.  The world does not like it when we kill terrorists who have attacked our people.  Just because some Arab tried to make a Jew dead doesn't mean we should make him dead, right?  We should give him a comfy prison cell instead and let him watch cable TV.
http://www.jpost.com/Israel-News/Politics-And-Diplomacy/Merkel-We-expect-Abbas-to-condemn-acts-of-terrorism-428676
UN General Secretary Ban Ki Moon was here, and, as expected, expounded on the need for a "two state solution" to give hope to the Palestinian Arabs.  I cannot help wonder when I hear people such as Ban propose such a solution, whether they truly can believe it.  I seriously doubt it, whatever their political orientation.
~~~~~~~~~~
A major focus of this violence, at least ostensibly, continues to be the Temple Mount, which we are charged with attempting to take over.  The PA and Jordan are seeking full control of the Mount, with decisions as to how many non-Muslims can come up totally in their hands. That is not going to happen.  What did happen is that Netanyahu offered to further restrict the number of non-Jews allowed up.  (You may have heard the huge thump that followed this offer, as I banged my head into the wall.)  This is NOT the way to go – as concessions signal weakness.  At any rate, his offer was rejected because it didn't go far enough.
~~~~~~~~~~
I want to repeat again here what the original understanding in 1967 was: the wakf, in Jordanian hands, has day to day administration of the Muslim religious sites on the Mount.
The Arabs do not have sovereignty over the Mount; we do.
Our current situation is not new – and goes back way before modern Israel existed.  Charges that Jews are going to take over the Al-Aksa Mosque on the Mount have been utilized time and again to incite Arabs in the land to the murder of Jews.
Most notably there is the Mufti of Jerusalem, Haj Amin al-Husseini, who, in 1929, spread just this rumor. This led to the massacre of 67 people in Hevron. See on this and similar incidents here:
http://www.algemeiner.com/2014/01/31/inciting-violence-against-jews-through-inaccuracy/#
~~~~~~~~~~
In 2000, Ariel Sharon, who was then head of Likud, the opposition party, went up on the Mount after having coordinated his visit with Wakf security.
Credit: Flash 90
The second intifada – the Arab war – that followed was said to have been ignited by this visit, which Palestinian Arabs claimed they found offensive. But this was a pretext.  I have material indicating clearly that the PLO had been planning for the intifada and were just waiting for the excuse to pin it on.  They even had fliers printed and stones stockpiled.
~~~~~~~~~~
But before we move away from the subject of the Mufti, I want to take a look at the furor that erupted yesterday because of a statement Netanyahu made regarding him.  In this instance I stand behind the prime minister, whose words were a bit distorted by media.  It was made to sound as if he said the Mufti and not Hitler was responsible for the Holocaust.
What Netanyahu said at the World Zionist Congress meeting here in Jerusalem:
"…the Mufti…was…sought for war crimes in the Nuremberg trials because he had a central role in fomenting the Final Solution.
"He flew to Berlin.  Hitler didn't want to exterminate the Jews at the time, he wanted to expel the Jews. And Haj Amin al-Husseini went to Hitler and said, 'If you will expel them, they'll all come here.' 'So what should I do with them?' he [Hitler] asked.  He [Husseini] said, 'Burn them.'"
http://www.jpost.com/Israel-News/Politics-And-Diplomacy/Netanyahu-trivializing-Holocaust-by-claiming-mufti-persuaded-Hitler-to-kill-Jews-Herzog-says-427598
Netanyahu subsequently made it clear that he was not in any way trying to absolve Hitler of the crimes of the Holocaust. However, it is "absurd" to ignore the role played by the mufti in encouraging Hitler.
"There is abundant proof of this."  Adolf Eichmann's deputy, at the Nuremberg trials said that the mufti played a role in the decision to destroy European Jewry.  He thought this was "a reasonable solution to the Palestinian question."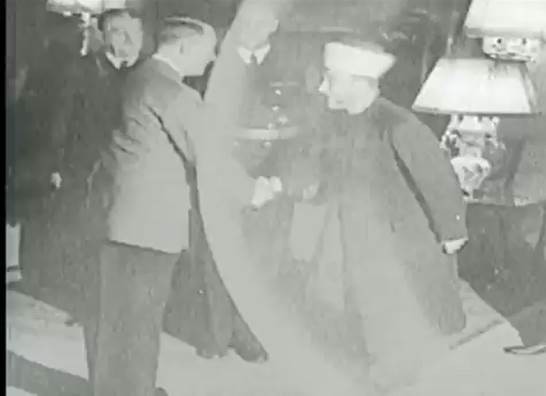 Credit: hirhome

~~~~~~~~~~
My friends, there is a direct line from the Mufti to Mahmoud Abbas, and within certain parts of Palestinian Arab society there is an endemic hatred of Jews that has a long tradition.  To ignore this is to ignore the reality of what we are dealing with now.
Prime Minister Netanyahu is to be congratulated for raising this significant issue.  Please share this information broadly, for it is obvious the world, in a desire to exonerate the Palestinian Arabs, would prefer to sweep it under the rung.
~~~~~~~~~~
Middle East Forum scholar, historian and author Wolfgang G. Schwanitz supports Netanyahu's contentions (emphasis added):
"It is a historical fact that the Grand Mufti of Jerusalem al-Hajj Amin al-Husaini was an accomplice whose collaboration with Adolf Hitler played an important role in the Holocaust. He was the foremost extra-European adviser in the process to destroy the Jews of Europe."
https://madmimi.com/p/62c2d6?fe=1&pact=33998600335
~~~~~~~~~~
Please see this article by Daniel Gordis, "No Country for Jews?"
Gordis is not a right-winger or a nationalist, not by a long shot. But what he describes here is dialogue that ensued between students and a religious Muslim woman who is an instructor at the very moderate Shalem College in Jerusalem.
How did she think the current tensions would be resolved? the students asked her (emphasis added):
"'It's our land,' she responded rather matter-of-factly. Stunned, they weren't sure that they'd heard her correctly. So they waited. But that was all she had to say. 'It's our land. You're just here for now.'"
"…What upset them was that she — an educated woman, getting a graduate degree (which would never happen in a Muslim country) at a world class university (only Israel has those — none of Israel's neighbors has a single highly rated university) and working at a college filled with Jews who admire her, like her and treat her as they would any other colleague — still believes that when it's all over, the situation will get resolved by our being tossed out of here once again."
http://www.nydailynews.com/opinion/daniel-gordis-no-country-jews-article-1.2400841
~~~~~~~~~~
And see this, by David Horovitz, editor of The Times of Israel, who tilts left much of the time.  "Not an uprising against the occupation. An uprising against Israel." (emphasis added):
"…what we face now is unknown numbers of potential attackers, who've been stirred to murderous fervor by a thoroughly organized campaign of hatred against us.
"…the result is that we set out each day knowing that people around us want to kill us…the brainwashing has been so effective that they come at us ready and willing to die in the act of killing the Jew — the evil Jew, they have been so effectively persuaded, who has no right to be here, who has no connection to Jerusalem and to this land."
http://www.timesofisrael.com/not-an-uprising-against-occupation-an-uprising-against-israel/
~~~~~~~~~~
These messages carry more weight because they are being delivered by people who are not rightist, people who would have opted for two-states, but are strong enough to tell the truth now.
Please! share this broadly.  These are existential issues.
~~~~~~~~~~
In Berlin today, Kerry met with Netanyahu.  The Secretary of State, who is oh so eager to ignore the realities, and probably has cotton between his ears:
"…called on Israel to move 'beyond the rhetoric' and take steps to 'rekindle' the peace process with the Palestinians….
"'It's very important to settle on the steps that can be taken that take us beyond the condemnations, beyond the rhetoric.'"
As if there could be a "peace process" in the face of the hateful rhetoric.
He said he has been encouraged by recent statements by Abbas and Hussein regarding a de-escalation of the violence. He is now going to meet with them in Amman.  But of course Abbas will tell him what he wants to hear.
Netanyahu's response (emphasis added):
"There is no question that this wave of attacks is driven directly by incitement — incitement from Hamas, incitement from the Islamic Movement in Israel, and incitement, I'm sorry to say, from President Abbas and the Palestinian Authority.  I think it's time for the international community to say clearly to President Abbas: Stop spreading lies about Israel.
"To generate hope, we have to stop the terrorism. To stop the terrorism, we have to stop the incitement."
http://www.timesofisrael.com/kerry-to-netanyahu-lets-rekindle-the-peace-process/
~~~~~~~~~~
One other subject I want to touch on here.  It is one that generated furious anger in Israel, but in the end has only PR value.
UNESCO passed a resolution yesterday.  I had been optimistic before the vote, for the original resolution called for the Kotel, the Western Wall, to be identified as part of the Temple Mount (i.e., in Muslim hands) and even the the head of UNESCO condemned this.
I was, it seems, too quick to see hope.  The final resolution dropped this claim but advanced two others: That Kever Rachel (Rachel's Tomb) just outside Jerusalem, and the Machpela (the Tomb of the Patriarchs) in Hevron are "Muslim sites."  Ludicrous, outrageous.
I want to visit this in more detail, just as I wanted to come back to the issue of Kever Yosef (Joseph's Tomb). But will not take the time to do so until I am certain that my postings will be received by my readers.
For now, just know that this vote is purely symbolic and has less than no impact in the de facto situation, and no legal implications whatsoever.  Wrote one major international lawyer, whom I queried on this:
"…they can resolve that the moon is Palestinian territory and it would have no effect whatsoever. Just another Palestinian exercise."
~~~~~~~~~~
Vehi She'amda is for Pesach, from the Haggada, but it is appropriate for today as well:
"And it is this [covenant] that has stood for our Forefathers and us. For not just one enemy has stood against us to wipe us out. But in every generation there have been those who have stood against us to wipe us out, and the Holy One Blessed Be He saves us from their hands."
I particularly love this duet, with Ya'akov Shwekey and Yonaton Razel (who did the musical arrangement):