No good news will start this posting, my friends. That's not because there isn't any – there is! and I'll get back to sharing it next posting – but because it is time for me to write about Duma once again. There is nothing redeeming about this situation, but I believe it is important to focus on it today.
I do not – I cannot claim to – have final or absolute answers. But I raise critical issues.

~~~~~~~~~~
I first wrote on August 4th about the situation – the late July torching via a firebomb of a house in the Arab village of Duma, which ultimately caused the death of three people, starting with 18-month-old Ali Saad Dawabsha.
Credit: AFP/Jaafar Ashtiyeh
You can find the full post here:
http://arlenefromisrael.squarespace.com/current-postings/2015/8/5/august-4-2015-rush-to-judgment.html
I want to begin by referring back to pertinent sections of that posting to establish context for what is going on now:
~~~~~~~~~~
At the scene of the arson, graffiti spray-painted on the wall led to the wide-spread assumption – in some cases tentative and in others not so tentative – that it was an attack by Jews:
The graffiti consisted of a Jewish star and the Hebrew word nekama, which means "revenge."
Credit: Zacharia Sadeh/Rabbis for Human Rights
Elsewhere on the wall was written, "Long live King Messiach" (HaMelech HaMoshiach).
Credit: Zacharia Sadeh/Rabbis for Human Rights

Academic Daniel Gordis wrote, "it is almost universally assumed that the attack was the work of right-wing Jewish nationalist extremists."  Defense Minister Moshe Ya'alon reflected this assumption when he declared, "We intend to fight Jewish terror with determination and without compromises." But I did not see this assumption as "almost universal."
What was widely suggested was that the perpetrators were "radical settlers" from a nearby Jewish community – with "settler," in this context, a pejorative. The fact was, however, that there were no identified suspects when this presumption was advanced.  This was the "Rush to Judgment" that I referred to in the title of my August 4 post.
On the part of the Jews of Israel, there was, first, a stunned sorrow, on learning that a baby had been destroyed, that a family had been attacked in their home.  But then there was the difficulty of taking in the fact that it may have been Jews who did this.  Jews are not supposed to behave thus.  The visceral reaction was that such an act demeaned us, as a people.
There were demonstrations to register opposition to terrorism; rabbis who spoke out forcefully against use of violence for resolving societal problems; editorials that decried what our society was in danger of becoming and demanded communal soul-searching.
And so, there was a way in which it was possible to say that we had demonstrated that this is not what what we are – we had demonstrated to ourselves and before the world that we are different.  We stand against violence.
And yet there was a point at which this ceased to resonate positively.There was too much breast-beating, a tone that echoed a sort of communal guilt that was not appropriate. Condemning the terrorism implicit in burning a baby is one thing. Assuming that our whole society is generating a terrorist mentality – because of one act that may or may not have been committed by Jews – is something else.
(I didn't say this explicitly in August, but I would suggest now that this was galut mentality.  This rush to assume guilt.  Seeking answers and being ready to acknowledge the fact of a Jew who committed a terror act is one thing – this went further.)
Add to this the way in which our political adversaries and enemies chose to use the terror act in Duma to attack Israel. 
And the way in which leftist Israelis sought to use this as a weapon against "religious Zionists," "nationalists" – representing them as violent crazies who must be restrained.
The so-called "Rabbis for Human Rights" (which I consider shorthand for Rabbis for Arab Human Rights) irked me greatly.  Which is hardly surprising.  One of their field workers was cited as saying this "terrorist action" was "one of the more heinous ones that has occurred in the West Bank."  The message: that Jews commit atrocities that are as bad or worse than what Arabs do.
My mind went immediately to what was done four years ago to five members of the Fogel family, murdered by Arabs while they slept in their home.  The perpetrators declared themselves proud of what they had done, which included mutilating the body of the Fogel's two-month old baby.  I had no recollection of Rabbis for Human Rights speaking out on this most horrendous attack – but then, the Fogels were "settlers" of a religious orientation.
As for the EU, their response to this incident was vile:
"The Israeli authorities should … take resolute measures to protect the local population. We call for full accountability, effective law enforcement and zero tolerance for settler violence," declared a spokesperson for Federica Mogherini, head of foreign policy for the EU, in a prepared statement.
When, ever, did you hear an EU spokesperson say to Abbas or other PA leaders that it was time for them to take full accountability for the violence visited upon Jews by Arabs living in PA areas?  When did they demand zero PA tolerance for violence?  Rhetorical questions, of course. The EU does not see fit to predicate support for the PA on its accountability with regard to terrorism.  And yet Mogherini's spokesperson had the gall to speak about protecting the local Arab population from Jews.
~~~~~~~~~~
And  here I come to the final issue I addressed in August: certain facts that I encountered cast doubt on the likelihood that it was Jews who killed Ali Saad Dawabsha.
Hillel Fendel wrote an article in Arutz Sheva about this.  He relayed the fact that "there have been reports of an ongoing, 18-year feud between two clans in Duma that might be related to the murderous arson."
Then he cited Yonadav Tapuchim, a Jew who had gone into Duma with other Jews in an attempt (unsuccessful) to pay a condolence call to the bereaved family.  Tapuchim had written on his Facebook page that there was something suspicious about the nature of the alleged arson, with "curious aspects" in the story.
"I would start with the fact that the two houses [an empty one was firebombed first ] are located in the center of the village, and that in order to get there we had to travel a number of minutes from the entrance. Duma is spread out over a gigantic area, and the houses are situated at the end of a winding road, among fences and yards.
"According to the Duma version, the attackers burnt one house, then saw that it was empty, and so they went to set fire to the next house.The second house is enclosed by a fence, and the windows are covered by a dense lattice; a firebomb cannot be hurled through the windows, and in any event it is very hard to reach the windows behind the fence…."
Most of the time, when terrorists enter a village, they aim for attack on the houses close to its periphery, to reduce the chance of being seen and maximize the opportunity for escape.  Such attacks are random in nature – the Fogel family, for example, was, to the best of my understanding, just in the wrong place, not singled out specifically for attack.
The logical question here is why Jewish terrorists would have taken themselves way into the center of the Arab village, where the chances for being seen or apprehended were much greater, rather than staying on the periphery.  And why they would have chosen to hit a home that was difficult to access because of fencing, if the intent was to hit "a" family, not to target any particular family.
If the perpetrator belonged to a clan that is feuding with the Dawabsha clan, then there might indeed have been a specific family that had been targeted.  And thus a specific reason for going to that particular house.  What is more, if the perpetrator belonged to the feuding Arab clan of Duma, then, presumably, he was already a resident of the village and not someone who had to make his way from the outside – and not identifiable in the way a religious Jew would have been.
~~~~~~~~~~
Let us then carry this one step further:
On the front page of the August 4th Jerusalem Post, there was a feature story about the family that owned the empty house that had been firebombed. They were supposed to be in the house that night, but were delayed in Nablus (Shechem). And guess what? Their name is also Dawabsha – they are cousins to the family that was attacked.
Was this truly random then?  An attack by Jews from the outside? Or an attack by people who were after members of the Dawabsha clan specifically?
What was explained by Emam Dawabsha (lady of the first house) is that the arsonists "torched the backroom of their home where they typically slept on hot summer nights."
So then, one last question: Was it simply a random act by Jewish terrorists, who happened to torch the room where this family would have been sleeping even though it was at the back of the  house?  Or was the attack by people who knew full well where the family was expected to be?
~~~~~~~~~~
Some commentators have taken a close look at that "HaMelech HaMoshiach" graffiti.  Clearly, it suggests, or is deliberately designed to suggest, a "radical religious settler."  However, this specific term is directly associated with the Chabad-Lubavitch movement today. (If you doubt it, Google it and you will see.)  But Chabad – indisputably the most open and moderate of hassidic groups – is not associated with terrorism. Was this term written by a radical religious settler?  Or by an Arab who wrote Hebrew and got his religious groups just a tad mixed up?
(Some commentators have suggested – there are apparently ways for graphologists to assess this – that the way the Hebrew looks suggests that it was not written by a Jew thoroughly comfortable with Hebrew, but by someone who was copying the Hebrew.)
~~~~~~~~~~
For some considerable time thereafter, there was only silence.
If there was ever a serious investigation within Duma, regarding the clan feud, etc., no word was ever leaked about it, no report ever issued.
But neither was there any information leaked about evidence secured in the course of an investigation of possible Jewish suspects. As it turned out, there apparently was no evidence.
At one point Defense Minister Moshe Ya'alon made an ambiguous statement that bewildered many – myself included.  We know who did it, he said.  Jews, but not from the price tag  (tag mehir) movement.  Those responsible are a small group of perhaps a couple hundred who are very radical, he said, and a danger to Israel because they want to overthrow the government.  No arrests followed this statement, however.  Ya'alon said this was because it would "expose intelligence sources" if arrests were made.
~~~~~~~~~~
Then, some some six weeks ago, a number of far right young people (the original number I believe was six and then one was released) were detained in connection with the Duma arson. In their teens – at least one a minor – and early twenties, their identities were withheld.
These are members of the hilltop youth, who have established themselves on hilltops in Samaria, attempting to claim the land without approval from the gov't. They are extremely right wing, and passionate in their beliefs.  They are disenchanted with the government, often alienated; they may be responsible for price tag graffiti, or vandalism on occasion.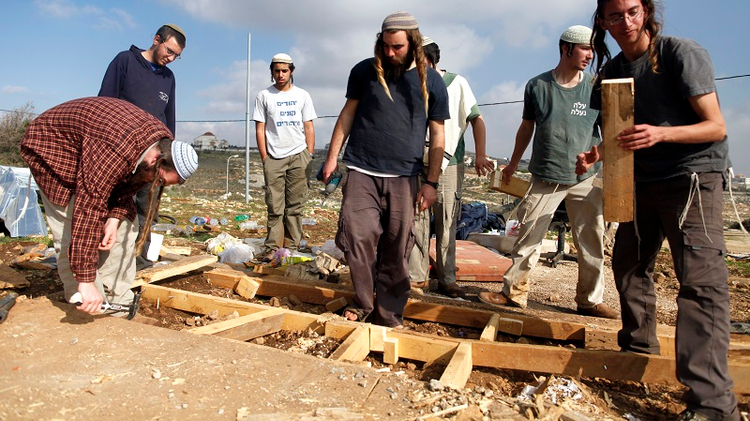 Credit: i24news
You might deplore their positions and tactics, wish they had better guidance from adults who can reach out to them, or admire them as courageous and honest.  But none of what I just described, per se, makes them "terrorists."
The question before our nation now is whether any one of their members indeed is a terrorist.
~~~~~~~~~~
They were not arrested because there was no evidence against them and thus no way to charge them.  And here I want to stop and cite political commentator Martin Sherman, who recently provided valuable perspective with regard to the fact that Shin Bet had nothing on them (emphasis added):
"Having committed the dastardly deed, these youthful renegade radicals, who presumably have not been extensively schooled in the tradecraft of clandestine activity, apparently have the iron discipline not to let slip the vaguest hint of what they had perpetrated. No boastful bravado, no indiscreet phone call in a moment of weakness – only sphinx-like silence for months on end, while the county's entire law enforcement apparatus, together with the formidable internal security services, was hunting them.
"Remember, the suspects, unlike covert intelligence agents operating in foreign lands, cannot escape to some safe haven in another country. Quite the opposite, they comprise a small, easily identifiable group, confined to well-known locations, readily recognized by their physical appearance and thus unable to blend in easily with the general population.
"For months the law enforcement agencies, with all the measures at their disposal – covert surveillance, phone tapping, insertion of undercover agents, enlistment of group members to become informers (either willingly, by positive persuasion or unwillingly, under duress) – could not come up with any incriminating evidence…

"Could it be that there is something disturbingly wrong with this picture?"
http://www.jpost.com/Opinion/Into-the-fray-Duma-dirty-dancing-and-deeply-disturbing-detention-439022
~~~~~~~~~~
And so, minus evidence or specific charges, the Shin Bet – Shabak, the Israeli internal security agency – held them in "administrative detention" for weeks without allowing them access either to their parents or to their pro bono lawyers from Honenu.
Why they selected the particular individuals they did, when they apparently were lacking evidence pointing to them specifically, is something I cannot explain. My guess at the time – and I caution that it was only my speculation – was that they decided these radical kids were a good place to start, and figured if none of those in detention were responsible, in the end they would provide information that would lead them to others.
The situation came to the fore when Honenu lawyers finally were allowed to meet with their clients on December 16th. The next evening, three attorneys associated with the case held a press conference during which they charged that the remand conditions and methods of interrogation were "appalling."
Itamar Ben-Gvir, for example, said:
"I met my client after 21 days, during which he was forbidden to meet an attorney.  I met a man physically, mentally, broken, a man who needs psychotherapy. The Shin Bet investigators made him into a shadow of a man."
He claimed the interrogation was accompanied by "sexual harassment against my client, harm to what is holy to him, to his observance of the Torah and commandments, and sleep deprivation for long periods."
http://www.timesofisrael.com/shin-bet-broke-my-client-says-attorney-for-jewish-terror-suspect/
Credit: Yonatan Sindel/Flash90
~~~~~~~~~~
These deeply distressing charges were followed by counter charges and denials that made it very difficult to grasp with firmness precisely what was going on.  At some points it was impossible to declare anything definitively.  There seemed little to do but wait for greater clarity.
Here I can only summarize what has been and continues to be a very painful and complex situation.
Shin Bet for its part, insisted what they were doing was "tough interrogation" – supervised by lawyers – that did not constitute "torture," as the charge had been made.  But then we came to a horrendous place of asking where "tough interrogation" stops and "torture" begins.  Refusing to allow the suspects sleep – what is that?  And refusing a religious person a chanukiah for lighting candles? Or clean underwear?  Not letting a 17 year old speak with his family for weeks?  Tying a suspect's hands behind his back in an uncomfortable position for extended periods?
And so questions began to be posed regarding what it was appropriate for Israel, a democracy, to be doing.  Especially, as minors were involved.  There have certainly been suggestions that the law has been broken in one regard or another by the methods of interrogation that were used.
~~~~~~~~~~
It was explained by multiple persons – persons in gov't and journalists – that the Shin Bet was dealing with a very serious situation that necessitated "toughness" – because these young people want to overthrow the government and are dangerous.  Overthrow the government? That would justify a great deal. This was the original claim of Ya'alon that I referred to above.
But what does this mean? That the hilltop youth are thoroughly alienated by the government and would prefer one that works according to principles of Torah is likely true.  But it's a huge stretch from acknowledging this to saying they represent a "danger." This, my friends, I find it difficult to believe. There has been no evidence to bolster this claim – not with all of the investigation of the group that has been done.  A convenient charge to make, perhaps to justify actions that should not be justified  How?  How would they be a danger in any real sense?  And if they are a danger, why have no indictments in this respect been brought?
What occurred to me as these charges were being made is that we have at least one Arab member of the Knesset (Hanin Zoabi) who speaks for the enemy – and yet she is still in the Knesset.  But the young people are dangerous?  Is there equity of judgment here, or is it a matter of what is politically correct, and what will fly?
~~~~~~~~~~
Still another explanation offered for why "tough interrogation" was required was that these young people represented a "ticking bomb."  By this was meant there was a real danger of their doing a second time what they had done once in Duma, so that information had to be secured quickly to prevent this from happening.
But this does not fly either. The arson at Duma happened at the end of July, and these young people were at large until approximately mid-November. That would have been plenty of time for them to perpetrate another terror attack, had that been their intention. There is no way to make the case for a ticking bomb here!
The term "ticking bomb" is applied with regard to an Arab with terrorist connections who may know where weapons to be used in an imminent attack are hidden, or exactly when and where the next attack is going to happen.
~~~~~~~~~~
Late last week, a news story broke that undercut denials of torture and rendered this entire situation more troublesome still (emphasis added):
"Sources close to the probe of a fatal firebombing of a Palestinian home in July say Jewish suspects in the case were tortured under the express authorization of Attorney General Yehuda Weinstein, Haaretz reported Thursday.
"The unnamed sources reportedly allege that Weinstein authorized the use of severe interrogation techniques against the detainees several weeks ago, after officials in the Shin Bet internal security service informed him that the investigation was at a dead-end.
"The report further stated that Prime Minister Benjamin Netanyahu was not informed of this decision in advance, and was only notified about the use of extreme measures after the fact."
http://www.timesofisrael.com/a-g-authorized-torture-of-jewish-terror-suspects-report/
Credit: YNet
~~~~~~~~~~
And now, Amiram Ben-Uliel, one of the young people who has been in detention, is reported to have confessed and has been indicted for the arson at Duma. Shin Bet says he acted alone (as his accomplice backed out) and that he re-enacted part of the crime in the course of his confession.
Courtesy
~~~~~~~~~~
There are two questions of over-riding significance here.  One is the question of whether he did it.
I do not know and am obviously not in a position to make final judgment on this. His wife insists that he is innocent but cracked under torture. There certainly are false confessions on record given as a result of torture, whether it is true in this case or not.
IF he did it, by himself and without the assistance of an accomplice, it means that he went along a winding road into the center of Duma, set one house on fire, saw that no one was in it, set a second house, which was difficult to access because of fences and lattice-work, on fire, wrote the graffiti on the wall, and got out without being seen.
~~~~~~~~~~
But there is another issue which likely supersedes the first question:  If his confession was secured via torture, it is not legal.  The Movement for Governability and Democracy (Meshilut) had already charged that if the Attorney-General approved torture despite the "lack of concrete events justifying such measures" he acted illegally "and in violation of a Supreme Court ruling on this matter."
http://www.israelnationalnews.com/News/News.aspx/205884#.VomupJtunIU
Will the confession be accepted by a court of law then? For without the confession, the authorities have nothing and there is no case against Ben-Uliel.
~~~~~~~~~~
And so we are grappling with two matters of deepest concern.
One is whether a Jew committed terrorism against an Arab family.
But the other is whether Israel will conduct herself according to the rule of law – and whether "tough interrogation"/torture will be permitted when there is no independent evidence that would justify it.  The Chief Rabbi of Jerusalem, Rabbi Aryeh Stern, having spoken with the young people held in detention, has already called for an "independent inquiry" to determine whether the charges against the Shin Bet are true.  There will be other such calls.  .
Undoubtedly, I will return to this, as these are heavy, heavy questions.
~~~~~~~~~~
Before closing, I make this comment:  I saw an article that implored, leave the Shin Bet alone, for we are indebted to them for the work they do in protecting us.  I heartily concur that we are indebted to them!  I write about it all the time – the Hamas cell they uncover, the cache of weapons, etc.  It is an ongoing and very necessary service they provide to Israel with considerable effort and diligence.
Thus, does it follow that it gives me no pleasure to criticize the Shin Bet.
However, the Shin Bet as well must obey the laws of the land, and when it seems there are hard questions to be asked, they must be asked. This too is for Israel's sake, that she might be all she should be as a democracy.
In point of fact, this entire posting has been very difficult for me to write.