Yes, once again, It's time to present this week's statuette of shame, The Golden Weasel!!
Every Tuesday, the Council nominates some of the slimiest, most despicable characters in public life for some deed of evil, cowardice or corruption they've performed. Then we vote to single out one particular Weasel for special mention, to whom we award the statuette of shame, our special, 100% plastic Golden Weasel. This week's nominees were all particularly slimy and despicable, but the votes are in and we have our winner… the envelope please…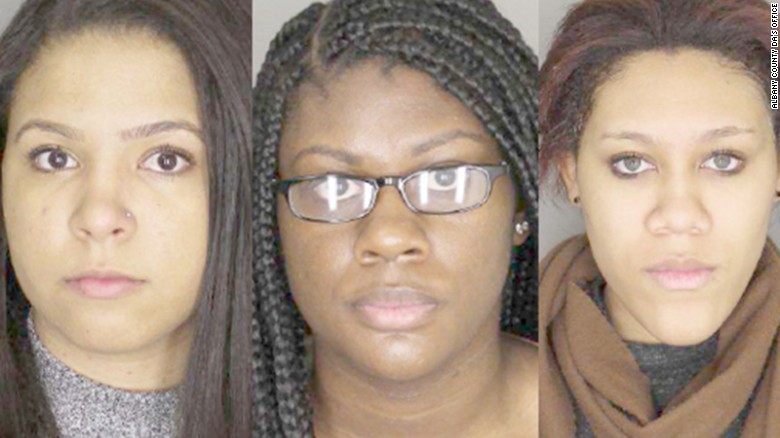 Racist Hate Crime Hoaxsters Ariel Agudio, Alexis Briggs, and Asha Burwell!!
Nice Deb: I'd like to nominate the three African American women who perpetrated a major racial hate-crime hoax at SUNY Albany, to be this week's Weasels.
On January 30, Ariel Agudio, Alexis Briggs, and Asha Burwell falsely claimed that they were harassed and assaulted by a mob of white people while riding on a CDTA bus back to campus from the bars in Albany.
Their story involved 10-20 white students spewing racial epithets and punching and kicking them while on the bus.
Without confirming whether the allegations were true, SUNY Albany President Robert Jones said he was "deeply concerned, saddened and angry about this incident."Hundreds of students appeared at a rally that also included members of the National Congress of Black Women and the Albany chapter of Black Lives Matter.
After watching to surveillance videos from the 12 cameras on the bus, listening to their 911 call (especially when they were on hold and didn't realize they were being recorded) and after talking to multiple witnesses, the police decided to charge the alleged victims with third-degree assault and with falsely reporting an incident.
It turns out that Agudio, Briggs, and Burwell were the ones throwing the punches and yelling racial slurs. The other kids were just trying to stop the assault.
It doesn't get much weaselier than that.
---
While these three definitely deserve their weasel (as well as felony charges for filing a false police report as well as various assault charges now being filed based on what actually happened), it really is a prize that should be shared with a number of their professors, the college president and of course the #blacklivesmatter crowd.
They're the ones who created a climate which encouraged this trio to do what they did and think it was just wonderful.
They're the ones who encourage a climate where the primary tenet is that everyone's a victim and that 'social justice' isn't social or just, but a scam and a con to be used when needed.
Needless to say, they won't be punished at all.
Well, there it is.
Check back next Tuesday to see who next week's nominees for Weasel of the Week are!
Make sure to tune in every Monday for the Watcher's Forum and remember, every Wednesday, the Council has its weekly contest with the members nominating two posts each, one written by themselves and one written by someone from outside the group for consideration by the whole Council. The votes are cast by the Council and the results are posted on Friday morning.
It's a weekly magazine of some of the best stuff written in the blogosphere and you won't want to miss it… or any of the other fantabulous Watcher's Council content.
And don't forget to like us on Facebook and follow us on Twitter… 'cause we're cool like that, y'know?