credit: christinemareebel
Not an easy thing to do – to maintain balance.  We might know where we want to go, yet find the way there exceedingly slippery.  This is what we are dealing with now: the rapids and the uneven stepping stones.
~~~~~~~~~~
I like to sustain my practice of starting with good news – it is one of the things that provides balance.  But today I cannot.  First things first.
Yesterday morning, in Kiryat Arba, a Jewish community adjacent to Hevron, Hallel Yaffa Ariel, age 13 – shown below with her mother, Rina – was asleep in her bed.  She was sleeping late because she had performed in a dance recital in Jerusalem the night before.
Courtesy
A Palestinian Arab teenager from the nearby village of Bani Na'im jumped the fence surrounding Kiryat Arba and broke into Hallel's home, getting into her bedroom. There he stabbed her multiple times before he was shot dead by security forces.
http://www.timesofisrael.com/a-terrorist-murdered-my-daughter-in-her-bed-tearful-mother-says/
Hallel was rushed to the hospital.
Credit: Yonatan Sindel/Flash90
There she succumbed to her wounds.
~~~~~~~~~~
She was buried Thursday evening in the old Jewish cemetery of Hevron, with thousands in attendance.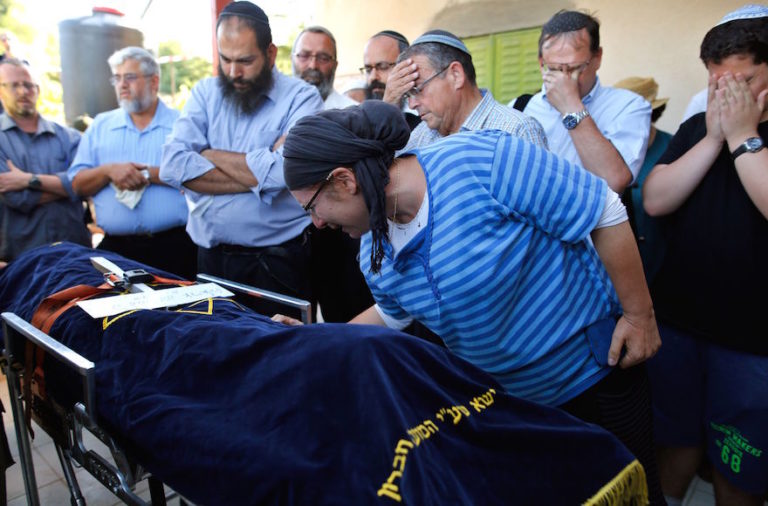 Credit: Gil Cohen-Magen/AFP
"Rina [Hallel's mother] called on the public to come to Kiryat Arba…
"We invite everyone to come…to console; there are…Jews here who need strengthening. We are strong and we won't break, but we need your help to continue and build here…
"I want to address the mother of the terrorist who did this.  I teach my children to love and you've educated yours to hate.'" (Emphasis added)
She ended with the Shema prayer.  And once again, I am in awe at the strength and lack of bitterness.  Let the world see who we are, should it ever choose to see.
http://www.israelnationalnews.com/News/News.aspx/214324#.V3VmiZDr3IU
~~~~~~~~~~
"Agriculture Minister Uri Ariel, who is a first cousin of the victim's father Amichai, eulogized young Hallel with a call to strengthen the Jewish presence in the land of Israel.
""We say to the mourners: through the building of the land we will be comforted.' (Emphasis added)
"'This cannot be just a demand – this is a Torah command!…I stand here and say to you Hallel, and to all the Ariel family… we vow today to further build up the land of Israel.'"
~~~~~~~~~~
And MK Yehuda Glick "burst into tears as he offered his condolences to Hallel's grieving parents.
"Rena and Amichai, there is no person in the world who can see a young girl's bedroom with a mattress full of blood and not cry out, 'God Almighty, enough. Enough fathers and mothers who bury their children and children who bury their parents. Avenge the spilled blood of they servants!'"
Credit: Flash90
~~~~~~~~~~
A child. A beautiful and innocent child. Dead for no reason whatsoever, except that she was Jewish and lived in Kiryat Arba.
I want to wax eloquent, but suddenly find that words fail.  "How do you eulogize a girl thirteen and a half years old?" sobbed her mother, at the grave.
Prime Minister Netanyahu spoke of "bloodlust" and "inhumanity," and he sure has that right.
~~~~~~~~~~
Entry in and out of the terrorist's village has been blocked, and the work permits of the members of his family have been rescinded. Additionally, family members are being questioned.  The body of the terrorist will not be returned to his family, and the process has begun for the demolition of his house.
~~~~~~~~~~
But here, I think, is where we can see the heart of the matter:  Almost immediately after the terror attack, the official Facebook page of Fatah (the party of Abbas and the main party of the PA) posted the terrorist's picture and referred to him as a martyr (a "shahid").  The official PA news agency WAFA did the same.
The terrorist's mother, speaking to a local Hevron news network, said, "My son died as a Martyr defending Jerusalem and the Al-Aqsa Mosque."
http://www.palwatch.org/main.aspx?fi=157&doc_id=18302
~~~~~~~~~~
And where would she get this idea about defending Al-Aqsa, if not from the PA and Abbas himself?  See this from the official PA daily Al-Hayat Al-Jadida:
"During its weekly meeting held…[June 7, 2016] in Ramallah, led by [PA Prime Minister] Rami Hamdallah, the [PA] government called to visit Jerusalem, and for every one of our people who can, to come to the blessed Al-Aqsa Mosque to pray and carry out Ribat (i.e., religious conflict/war over land claimed to be Islamic) there. Likewise, it called on the Arab and Islamic world to fulfill their responsibility and support the resolve of the [Arab] citizens of Jerusalem who are the defenders of Jerusalem and guardians of its honorable [Al-Aqsa] Mosque."
http://palwatch.org/main.aspx?fi=771
~~~~~~~~~~
And so, let's take a look for a moment at what's going on on Har HaBayit (The Temple Mount) in recent days. Please understand, this is during the Muslim holiday of Ramadan, which means increased Muslim agitation is almost taken for granted.
At the beginning of the week, there was repeated violence on the part of Muslims, who attacked Jews on the Mount.  Masked men stockpiled rocks in their sacred Al-Aqsa Mosque with which to pelt Jews and Israeli security forces.
A video of the violence here:http://www.israelnationalnews.com/News/News.aspx/214143#.V3U9kJDr3IV
You can perceive immediately how "pious" these people are, and how deeply they revere the mosque they use to support their violent behavior.
It always astounds me – the juxtaposition of their claims of great reverence for their holy site and their demonstrations of defilement in its environs.  I guess what most astounds me is how little the world chooses to notice this.
The presence of Jews on the Mount is apparently "offensive" to these masked men.  At the beginning of the week, the Jews were protected by security forces, with warnings sounded to the Muslims that violence would not be tolerated.  A handful of violent Muslims was arrested.
~~~~~~~~~~
But by Tuesday a different approach was being taken: Since the presence of Jews agitated the Muslims on the Mount, it was decided that no non-Muslims would be permitted up there.
http://www.israelnationalnews.com/News/News.aspx/214190#.V3VCLpDr3IV
What a fantastic idea!  Give in to their violence.  Let them win by removing the source of their agitation.  Then quiet can be maintained and security forces can handle the situation.  And the only cost is that Jews (and Christians) will be deprived of the right to ascend to the Mount.  Piffle.  What is that?
According to this article, this practice will be enforced only for three days. But I've read elsewhere that this will go on until the end of Ramadan, which is next Tuesday.  Today is the last Friday (the sabbath of Islam) of Ramadan and security forces will be out in large numbers in Jerusalem.
~~~~~~~~~~
In theory, Israel has sovereignty over the Mount, which sits in the heart of Jerusalem, the eternal capital of Israel.  In theory.  What I want to know is when it will be the case in practice, as well.
Credit: Muammar Awad/Flash90
I wrote in my last posting about the importance of our holding our heads high.  How do we imagine that we can defeat Islamic-based terrorism when we surrender to Islamic-based violence?
If it were up to me, I would send a battalion of IDF soldiers up there, if necessary, to sustain quiet and permit a Jewish presence on the site.
Jerusalem Mayor Nir Barkat had it right, when he said:
"We must not make decisions under pressure from violent disturbances. Only consistent and determined practice in protecting the status quo will ensure a long-term reduction in violent incidents and bring quiet to Jerusalem." (Emphasis added)
http://www.timesofisrael.com/jerusalem-mayor-slams-rioters-as-temple-mount-closed-to-jews/
Credit: Hadas Parush/Flash90
~~~~~~~~~~
At roughly the same time that Hallel Ariel was being buried, there was another knifing attack in a market in Netanya, along the Mediterranean coast. Two people were wounded, one seriously.  The terrorist was shot dead.
~~~~~~~~~~
Let me now turn to Brexit, and explain why I put this in the good news category.
Quite simply: The EU is inherently hostile to Israel. 
[] They undermine us with demands for labeling of goods from Judea and Samaria.
[] They refer to the communities in Judea and Samaria as "illegal settlements," which they are not.
[] Showing a blatant disregard for the rule of law, they fund illegal building of Arab housing in Area C – claiming that "diplomatic immunity" prevents Israel from taking them to court.
Credit: Israellycool
[] They are applying pressure on Israel to participate in negotiations for a "two state solution" embracing terms – via the French plan – that are untenable and dangerous, as well as unjust.
~~~~~~~~~~
Bad enough. But worse – worst of all – was what happened last week, when Abbas addressed the EU parliament.  He said:
"Only a week ago, a number of rabbis in Israel announced, and made a clear announcement, demanding that their government poison the water to kill the Palestinians."
http://www.todayonline.com/world/abbas-says-some-israeli-rabbis-called-poisoning-palestinian-water
A blood libel pure and simple.  And for this he received a standing ovation.
Credit: Elder of Ziyon
What can one say? This is a mark of Jew hatred, pure and simple. The EU is totally without moral or political integrity.
That it should be weakened is a positive development.
~~~~~~~~~~
I note that Abbas "sort of" retracted his statement just days after the above picture was taken.  A release from his office said: It has become evident that the alleged statements by a rabbi on poisoning Palestinian wells, which were reported by various media outlets, are baseless."
Myself, I think a more honest statement would have been: While the EU parliament seemed to love what Abbas said, he faced severe criticism from other quarters and decided it was politic to walk back his position.
It doesn't matter, of course, because the point is that the EU parliament loved him before he walked it back.
~~~~~~~~~~
But in the end, this is not just a question of what's "good for the Jews."  There are other reasons to celebrate a weakening/possible breakdown of the EU.
Italian journalist Guilio Meotti speaks of the development of the EU as a project that "was entrusted to a bureaucracy with extraordinary legislative and administrative powers." But he asks,  "Who will guard the guardians? It is the question of political legitimacy and sovereignty…
"As everyone knows, there is a terrible deficit of legitimacy regarding the European institutions…
"The integration of Europe was conceived in one-dimensional terms withthe dictatorship of unelected bureaucrats and judges, cancellation of laws passed by representative parliaments, constitutional treaties signed without any input from the people…" (Emphasis added)
http://www.israelnationalnews.com/Articles/Article.aspx/19106#.V3UUe5Dr3IV
~~~~~~~~~~
The open borders policy of the EU, which has permitted an uncontrolled and massive influx of Muslim migrants into the nations of the EU, is its biggest failure and may ultimately bring about its downfall.
For more on this, a Gatestone video, "Brexit: What It Means to Get Our Freedom Back."  https://www.youtube.com/watch?v=rdb0IUxoOfI with Dennis Maceoin.
Pro-Brexit Brits are hopeful that they can regain their sovereignty and control of their nation now.  Dry Bones has it right, I think:
Other nations may not be far behind.  There is talk, but it is still speculation at this point.
Many of us have been watching the horrendous implosion of Europe, as it is being overrun by those Muslims immigrants.  The breakdown of the EU – should it happen – would represent a return to sanity on the part of some individual European nations.  Might such a turn of events ultimately halt what seemed to be a runaway train?
We can ask, and then we must wait and watch…
~~~~~~~~~~
I wanted to examine the new agreement between Israel and Turkey here – which leaves me greatly unsettled.  But other issues have taken precedence. As it is a complex matter, I will save it for next time.
~~~~~~~~~~
Additional good news items before closing:
"The 3 Million Club is an Israeli NGO that works in Haiti, Nepal, and is now starting in India.  It supplies nutritional bars that are specially formulated to cure children from malnutrition within 12 weeks."
http://www.geektime.com/2016/06/12/this-hybrid-israeli-humanitarian-startup-is-a-lean-mean-child-hunger-fighting-machine/
~~~~~~~~~~
The Knesset last week gave final approval to marking the seventh of Chesvan on the Hebrew calendar as "Aliyah Day." Aliyah is immigration to Israel or, literally, going up.
The legislation – sponsored by MKs Robert Ilatov (Yisrael Beytenu), Miki Zohar (Likud), Avraham Neguise (Likud), and Hilik Bar (Zionist Camp) – will institute "a day dedicated to olim (immigrants) and their contributions to the country. It will be marked around the country in schools, the Israel Defense Forces and Israel Police, the President's Residence, and the Knesset."
The date was picked because it is close to the Shabbat – in the fall – on which there is the reading of the Torah portion Lech-Lecha, which describes God's command to Avraham to leave his home and go to the Land of Israel.
~~~~~~~~~~
And so, fittingly, Prayer for the State of Israel, with IDF Chief Cantor Shai Abramson.  I hope it uplifts you as it does me.