"You try to scare us so that we'll wear down, break, and leave, but it's all for naught. The sentiments in Otniel are not of fear and exhaustion, but rather of cohesion, resilience and especially a strong desire to move forward. The murderers that imagine eliminating us through bloodshed will find before them again and again a solid wall of people who believe in life a lot more than those same murderers believe in death."
http://www.ynetnews.com/articles/0,7340,L-4822991,00.html
These are the words of Eran Dgan, secretary of Otniel, a small Jewish community south of Hevron in the regional council of Har Hevron, and home of the Otniel Yeshiva.
Amazing words from an anguished man.  Dgan was addressing the terrorists – not yet captured – who late on Friday afternoon attacked and killed Rabbi Michael (Micki) Mark, who was director of the Otniel Yeshiva and lived in the community with his wife and their 10 children.
Facebook
Let all potential terrorists mark Dgan's words well.  As a matter of fact, let the world mark them well.  We are not going anywhere.
~~~~~~~~~~
Described as a pillar of the community, Rabbi Mark was a much-loved man – "a man of faith and spirit [who] spent every moment of his free time studying Torah…a gentle man and a devoted father to his family."  He was in his car on route 60, south of Hevron, when Arabs drove past him and began shooting at his car.  There are at least 20 bullet holes in the car.
As Mark's 14 year old son described it:
"They shot at us from the side where my sister was sitting next to me, on my left – then suddenly dad wasn't moving anymore."
http://www.israelnationalnews.com/News/News.aspx/214380#.V3j4C5Dr3IW
As the rabbi lost control, the car flipped over.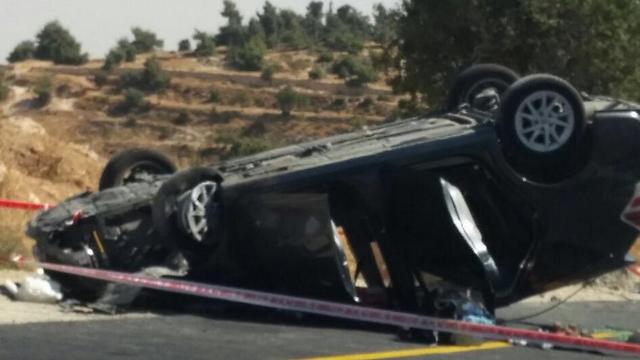 Credit: Har Hevron Regional Council
The rabbi's wife, Chava, was seriously injured.  Following a series of surgeries her life is now out of danger, but she is still in very serious condition and faces a long recovery.  A daughter, 14, was moderately injured and remains in the hospital.  The son, quoted above, was lightly injured and has been released from the hospital.
~~~~~~~~~~
The funeral today was held in two venues.  First a service in Otniel, with many rabbis and other notables in attendance.
Credit: Arutz Sheva
Credit: Hadas Perush/Flash90
Credit: Hadas Perush/Flash90

And then interment in Jerusalem.
Please see this extraordinary video clip of the Mark children put out before the funeral:
http://www.jpost.com/Arab-Israeli-Conflict/Murdered-Rabbis-children-Please-come-to-his-funeral-459336
Said President Ruby Rivlin, who was a distant cousin of Rabbi Mark, "We are not loosening our grip on the land. Terrorism will never undermine our hold on the land..."  Again, let everyone take note.  (Mark was also a cousin of Yossi Cohen, head of the Mossad.)
Rabbi Yehuda Glick, mourning deeply, on Friday noted his close relationship with Rabbi Mark: "He was like a brother to me."
And Rabbi Binyamin Kelmanson, Rabbi Mark's brother-in-law, said, addressing Mark at the funeral:
"Ironically, you will also be missed by the members of the [group] your murderers came from, you will be missed by our [Arab] neighbors whom you helped so much. We will still try to maintain good relations with our neighbors, and we will continue to meet with them."
"But," – now addressing the Arab population – "know this, that if you do not strike down the arms of the murderers, it will hurt you."
http://www.israelnationalnews.com/News/News.aspx/214401#.V3j9aJDr3IV
~~~~~~~~~~
Religious Jews, on receiving news of a death, say "Baruch Dayan HaEmet."  "Blessed be the Righteous Judge."  We, even when bereft and devoid of understanding, surrender to the Almighty's judgment in the matter.  And so, we see, again and again, an astonishing lack of bitterness in those mourning victims of terror.
We encounter, instead, a desire that some good should result from the unbearable tragedy.  And a firm determination to stand strong.
I have written again and again about the sense of family we have here in Israel.  And this is part of what we are witnessing: a strength that comes from being tied to the people. The people embracing the mourners and holding them upright in unending comfort.
~~~~~~~~~~
I was going to say there will be no good news in today's posting. But the news of who we are as a people and how we cope as a people is very very good news indeed.
Har Hevron Regional Council head Yochai Damri  put out a message before Shabbat:
"…For a long time in Otniel and Har Hevron, we have experienced difficult events, and today an additional event, but they will not break us! A peaceful Sabbath and a warm and lamenting hug to all."
http://www.ynetnews.com/articles/0,7340,L-4822991,00.html
~~~~~~~~~~
The Security Cabinet met last night and has decided on a number of more stringent measures for dealing with the Arabs: there will be a cemetery for burying terrorists, and none of their bodies will be returned; more work permits will be cancelled; more speedy demolition of houses of terrorists; more closures, including of Hevron; etc. etc.  More to follow on this in my next posting.
All to the good, and, taken collectively, still not sufficient.  This cannot continue.  That is the message that was delivered in demonstrations held here in Jerusalem and in Judea and Samaria last night.
~~~~~~~~~~
Approval has been given for construction of 42 new apartments in Kiryat Arba, in response to the terrorist murder of Hallel Ariel last week.
http://www.timesofisrael.com/pm-approves-additional-units-in-kiryat-arba-in-response-to-attacks/
~~~~~~~~~~
I am very eager to get this out, but pause to note just a couple of other matters:
We must ask, first, how much one family can endure.  Chava Mark, who is seriously injured, is the aunt of Yondav Hirschfeld, one of the eight high school students murdered during the 2008 terror attack in the Markaz HaRav Yeshiva in Jerusalem.
Her son, Shlomi, is married to Iska, the daughter of Eliyahu Ben-Ami of Otniel, who was killed in a terror shooting attack in 2000.
~~~~~~~~~~
Hallel Ariel, murdered in her bed by a terrorist last week, was a US citizen (with joint Israeli and American citizenship). To the best of my knowledge there has been no mention of this by the White House or State Department – no expression of outrage over this death.   If I am wrong, and it has come, it is in recent hours, for last I checked it was not the case.  Shameful.
And then: Abbas, who has remained purposely silent on these Palestinian Arab terrorist murders.  To decline to speedily and forcefully condemning is to condone.  Make no mistake about it: His people get the message.
http://www.timesofisrael.com/abbas-refusing-to-condemn-terror-surge-not-taking-calls-from-world-statesmen/