By: Denise Simon | Founder's Code
President Jimmy Carter gave away the Panama Canal which was officially transferred in 2000. Few know about the other canal project in Nicaragua, which is designed to be bigger and better. It was launched by a Chinese billionaire however, it appears the Chinese government is actually behind it.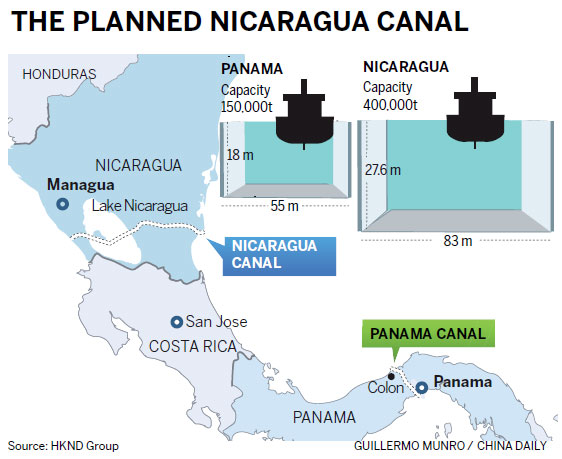 The whole matter is shrouded in secrecy while the Panama Canal is going through a huge expansion.
 PBS
China has been creating islands in the South China Sea while other islands are a source of major dispute. China has been seen as militarizing the manufactured islands giving rise to concerns of major cargo and global shipping lanes. Could China be making a worldwide play to control commerce and sea transportation?
Chinese state firms have expressed an interest to develop land around the Panama Canal, the chief executive of the vital trade thoroughfare said, underlining China's outward push into infrastructure via railways and ports around the world. China's state firms have in recent years already chalked up investments in key logistics nodes, including Piraeus in Greece and Bandar Malaysia, a major development project that is set to be the terminal for a proposed high-speed rail link between Kuala Lumpur and Singapore. More here from Reuters.
So is there more to this under reported threat by China? Yes. For instance:
HONG KONG — When the United States Air Force wanted help making military robots more perceptive, it turned to a Boston-based artificial intelligence start-up called Neurala. But when Neurala needed money, it got little response from the American military.

So Neurala turned to China, landing an undisclosed sum from an investment firm backed by a state-run Chinese company.

Chinese firms have become significant investors in American start-ups working on cutting-edge technologies with potential military applications. The start-ups include companies that make rocket engines for spacecraft, sensors for autonomous navy ships, and printers that make flexible screens that could be used in fighter-plane cockpits. Many of the Chinese firms are owned by state-owned companies or have connections to Chinese leaders.

The deals are ringing alarm bells in Washington. According to a new white paper commissioned by the Department of Defense, Beijing is encouraging Chinese companies with close government ties to invest in American start-ups specializing in critical technologies like artificial intelligence and robots to advance China's military capacity as well as its economy. More here from the New York Times.
Humm, need more? Both China and North Korea are known for hacking. China may have some obscure agreement with North Korea to hack selected global sites. As we know, North Korea is a threat as they are continuing to advance their missile program and super thrust rocket engines which are tied to their nuclear weapons program. China provides that communications, telecom and internet platform and servers for North Korea.
 BBC
North Korea relies on China for Internet connectivity, partially due to longstanding ties between the two nations and partly because it has few options. North Korea borders just three countries: South Korea, with which it is still technically at war, Russia and China. The Chinese Internet is well developed and the Russian border is far from Pyongyang, the North Korean capital, making China a good choice. Going back to 2014, the U.S. State Department was well aware of all these conditions between China and North Korea, still no solution by the Obama administration.
***
Hackers associated with the Chinese government have repeatedly infiltrated the computer systems of U.S. airlines, technology companies and other contractors involved in the movement of U.S. troops and military equipment, a U.S. Senate panel has found.

Cybersecurity expert Dmitri Alperovitch, chief technology officer with the security firm Crowdstrike, said China had for years shown a keen interest in th the logistical patterns of the U.S. military.

The investigation focused on the U.S. military's ability to seamlessly tap civilian air, shipping and other transportation assets for tasks including troop deployments and the timely arrival of supplies from food to ammunition to fuel. U.S. authorities charged five Chinese military officers, accusing them of hacking into American nuclear, metal and solar companies to steal trade secrets.

Last month, Community Health Systems (CYH.N), one of the largest U.S. hospital groups, said Chinese hackers had stolen Social Security numbers and other personal data from some 4.5 million patients.
*** North Korea has an elite and secret hacking unit as well known as Bureau 121. The Department of Defense submitted a report to Congress on Bureau 121 using asymmetric warfare. North Korea also has an additional cyber unit known as Office 91.
Office 91 is thought to be the headquarters of North Korea's hacking operation although the bulk of the hackers and hacking and infiltration into networks is done from Unit 121, which operates out of North Korea and has satellite offices overseas, particularly in Chinese cities that are near the North Korean border. One such outpost is reportedly the Chilbosan Hotel in Shenyang, a major city about 150 miles from the border. A third operation, called Lab 110, participates in much the same work.

There are also several cyberunits under North Korea's other arm of government, the Workers' Party of Korea.

Unit 35 is responsible for training cyberagents and is understood to handle domestic cyberinvestigations and operations. Unit 204 takes part in online espionage and psychological warfare and Office 225 trains agents for missions in South Korea that can sometimes have a cyber component. More here from PCWorld.
*** China is well aware of North Korea activities, while China has and is becoming more aggressive globally. There is clearly collusion, yet what is the West and in particular the United States prepared to do in response remains unclear. However, China did approve 38 Trump trademarks. President Trump meets with Xi Jinping, maybe we will know more in April.