By: Denise Simon | Founders Code
Washington is a nasty place due to lobbyists and money and Senator Schumer (D-NY) is chin deep in it all especially when it comes to how he votes on the globally disputed Nord Stream 2 Pipeline… .otherwise known as Putin's pipeline.
(By the way, after Biden decided to no longer support energy independence of the United States, we too are buying crude oil from Russia and it is dirty oil.)
As a primer to this on how politics, diplomacy, and military conflict all converge, know this —>>>
U.S. State Department spokesperson Ned Price said on Wednesday the Nord Stream 2 pipeline between Russia and Germany will not move forward if Russia invades Ukraine.
But back to Schumer:
Affiliates of two European companies that fund Russia's Nord Stream 2 pipeline contributed to the campaign of Senate Majority Leader Chuck Schumer (D., N.Y.), who Republicans say has blocked sanctions on the Kremlin-backed project.
ENGIE North America and BASF Corporation each gave $2,500 to Schumer in September through their corporate political action committees, according to newly disclosed Federal Election Commission records. ENGIE North America's parent company and a BASF subsidiary are part of a consortium of five companies that finance Nord Stream 2, which will transport natural gas from Russia to Germany. While President Joe Biden has called the pipeline a geopolitical threat to Europe that helps Russian president Vladimir Putin, last year he waived sanctions on the project.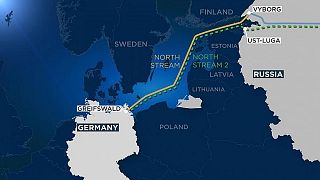 Republicans have pushed for legislation to enforce sanctions only to be met with resistance from Senate Democrats and the White House. Schumer for months blocked Republican requests to vote on a sanctions bill. He approved a vote on sanctions legislation proposed by Sen. Ted Cruz (R., Texas) earlier this month in exchange for Cruz lifting holds on several State Department nominees. The bill received bipartisan support by a 55-44 vote, but Senate Democrats used filibuster rules to block its passage. Democrats say they want to use sanctions against the pipeline as a last resort should Russia invade Ukraine.
The contributions to Schumer came amid an aggressive lobbying effort in Washington over sanctions on the 764-mile pipeline. The five European companies that back Nord Stream 2—Wintershall, ENGIE, Uniper, Shell, and OMV—have paid millions of dollars to lobbying firms to block sanctions.