By: Denise Simon | Founders Code
After months and months of the State Department blocking the release of the dissent cable, finally, a few in the House got access. Getting access was so bad that legislation was about to be introduced to force the issue after several subpoenas.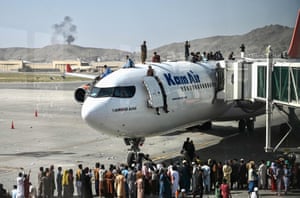 Click here for a photo gallery/credits courtesy of The Guardian.
Rep. Darrell Issa, R-Calif., is slamming the Afghanistan dissent cable to which Secretary of State Antony Blinken allowed congressional access Tuesday as "embarrassing" and saying that it debunks the Biden administration's narrative that it was caught off guard by the country's swift collapse in 2021.
Issa, who serves on the House Foreign Affairs Committee, told Fox News Digital that he was the first committee member to view the dissent channel cable from the U.S. Embassy in Kabul and Washington's response.
The State Department's "dissent channel" allows for contrary views to be expressed by officials. The document, signed by 23 staffers and diplomats, warned about the possibility of a rapid Taliban advance as the U.S. left the country, which President Joe Biden and other top officials downplayed at the time.
"What we saw was their prediction, with great accuracy, of exactly what was going to happen and what the outcome would be if they did not change their directions," the congressman said. "We saw a response from the office of the State Department saying, 'We hear you, and we agree, basically, we don't take it lightly.' And then, obviously, we know what they did and didn't do, which was totally insufficient for the warning that was given."
"They redacted the specific names, but we now know that many of them were senior executive surrogates, meaning people that are paid at the highest level in the State Department," he continued. "They knew and understood that there was no way that the Afghan military was going to defend successfully. They did not disagree with that, and as a result, they knew that Kabul would fall within weeks, that the Taliban would do what they have done, which is to continue to kill and persecute individuals, and they allowed it to happen."