But we might wish it were not quite so difficult.
We begin with the report on the Gaza war of 2014 prepared by the UN Human Rights Council Commission of Inquiry (COI), which was headed by Mary McGowan Davis.  It was released yesterday, and while not as flagrantly outrageous as the Goldstone report had been, it is very bad in several respects.
What is outrageously off the mark is its reach for even-handed moral equivalency:
"The commission was able to gather substantial information pointing to serious violations of international humanitarian law and international human rights law by Israel and Palestinian armed groups.  In some cases, these violations may amount to war crimes." (emphasis added)
http://www.israelhayom.com/site/newsletter_article.php?id=26397
~~~~~~~~~~
And please consider this, which is jaw-dropping (emphasis added):
"The United Nations Human Rights Council report on the 50-day Gaza conflict said there was no indication Hamas's cross-border tunnels were constructed to attack Israeli civilians, since the terror group exclusively targeted 'legitimate' Israel Defense Forces positions during the summer war.
"The commission, headed by American jurist Mary McGowan Davis, said that the network of tunnels reaching into Israel did not conclusively prove a threat to Gaza border communities and were used legitimately.
"'The commission cannot conclusively determine the intent of Palestinian armed groups with regard to the construction and use of these tunnels,' the report said. 'However, the commission observes that during the period under examination, the tunnels were only used to conduct attacks directed at IDF positions in Israel in the vicinity of the Green Line, which are legitimate military targets.'
As I recall, a tunnel was found dug adjacent to a kindergarten in a community in the south – which made the blood of many of us run cold.  And the commission cannot determine the intent of Hamas???
"In October 2014, the IDF confirmed a report in Vanity Fair that Hamas had planned to carry out a massive assault by penetrating Israeli communities via tunnels under the border from the Gaza Strip, and then killing or kidnapping as many civilians as possible.
"IDF Spokesperson Peter Lerner said the terror group planned to use the tunnels to attack civilian areas in Israel and 'inflict mass casualties.
"'Hamas had a plan,' Lerner added. 'A simultaneous, coordinated, surprise attack within Israel.'"
http://www.timesofisrael.com/un-report-tunnels-into-israel-legitimately-targeted-idf/
~~~~~~~~~~
The response by the Israeli Foreign Ministry:
"It is regrettable that the report fails to recognize the profound difference between Israel's moral behavior during Operation Protective Edge and the terror organizations it confronted. This report was commissioned by a notoriously biased institution, given an obviously biased mandate." (Emphasis added)
Our prime minister noted that (emphasis added):
"Israel does not commit war crimes. Israel is defending itself from a murderous terrorist organization that calls for its destruction and which has perpetrated many war crimes. Any country that wants to live would have acted this way… We will continue to take strong and determined action against all those who try to attack us and our citizens, and we will do so in accordance with international law."
The UN Human Rights Council, charged Netanyahu, has a "singular obsession with Israel.
"It has passed more resolutions against Israel than…against all the countries of the world combined.
"So Israel treats this report as flawed and biased and urges all fair-minded observers to do the same."
~~~~~~~~~~
NGO-Monitor has released a preliminary response to the report (emphasis added):
"[The Report] quotes extensively from biased and unreliable political advocacy non-governmental organizations (NGOs). Although these groups lack credibility and do not employ professional fact-finding standards, the COI repeated the NGOs' unverifiable factual claims and allegations of Israeli 'war crimes.'
"European government funding enables these NGOs, as does funding from private foundations such as the New Israel Fund (NIF). Without the financial support and public backing from their donors, these fringe advocacy organizations would not have a platform to disseminate their propaganda.
"An initial review of [the report] shows that the unverified claims of NGOs were referenced, cited, and quoted at a high volume, in contrast to accepted international fact-finding standards…"
http://ngo-monitor.org/article/par_for_the_course_eu_nif_funded_ngos_central_to_unhrc_lawfare_attack
~~~~~~~~~~
We will, undoubtedly, be returning to this subject.  Especially as the next stop may be the international courts.
~~~~~~~~~~
Then we have the situation with the Druze, which has now become even more complex and problematic than it had been.
Last night, an IDF ambulance in the Golan transporting two wounded Syrian soldiers to a medical facility in the north for treatment was stormed by some 150 Druze, who pelted the ambulance and managed to get inside.  One of the injured Syrians was left in critical condition and required surgery. The other died on the way to the hospital. Two IDF soldiers were lightly injured as well.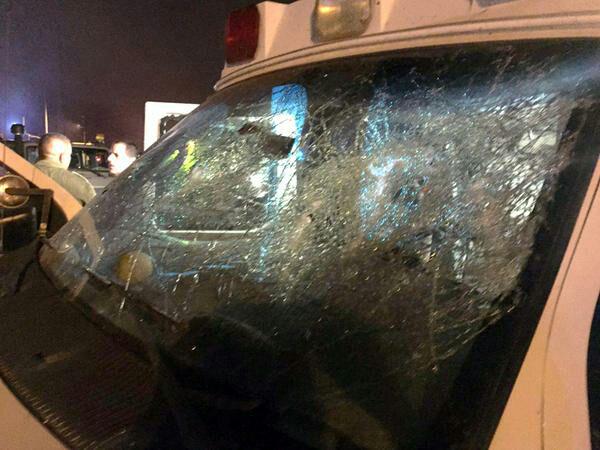 Credit: Yeshiva World News
~~~~~~~~~~
Prime Minister Netanyahu was very clear on this: "We will not let [residents] interfere with IDF soldiers' duty to carry out their missions."
While IDF Chief of Staff Gadi Eisenkot declared, "It's inconceivable that IDF soldiers and [Syrian] wounded are attacked by Israeli citizens."
Inconceivable, but it happened.  General Eisenkot has called an emergency meeting to discuss the situation.
http://www.timesofisrael.com/several-injured-as-druze-attack-idf-ambulance-carrying-syrians/
~~~~~~~~~~
Sheikh Moafaq Tarif, religious leader of the Druze community in Israel, lamented that, "This is not our way, and we are hurting over the criminal act done by lawbreakers, and call on authorities to act."  He will be calling a meeting of Druze leadership to discuss the matter.
This attack was actually the second of its kind in 24 hours, although the earlier attack had less serious consequences.
http://www.ynetnews.com/articles/0,7340,L-4671371,00.html
~~~~~~~~~~
The charge by the Druze is that Israel is treating and sheltering jihadis from the Nusra Front who threaten their fellow Druze inside of Syria.
IDF spokesman Motti Almoz said Israel "has not provided aid to the Nusra Front over the past four years, since the civil war in Syria began…
"We help wounded Syrians who arrive at our border and give them medical treatment."
http://www.timesofisrael.com/idf-denies-treating-syrian-jihadis-after-druze-attack-ambulance/
~~~~~~~~~~
A bit of background on the Druze situation:  Druze policy (or ideology, perhaps) requires them to be loyal to the authority of the area in which they live.  Most of the Druze inside of Israel are loyal Israelis and deeply Zionistic; many serve in the IDF.  There is, for example, Col. Rasan Alian (below), first Druze commander of the Golani Brigades. After being seriously wounded last year, he could not wait to get back to his men.
Yossi Zeliger/Flash 90
And MK (Likud) Ayoub Kara, who boasts that he is more Zionist than the Jews.
Some in the Golan, however, express ambivalence.  Before Israel took the Golan in 1967, they were loyal to Assad, and those still in Syria have remained so.  Some on the border, on the Israeli side, are fearful that Israel might yet relinquish the Golan, and so have been uneasy about assuming Israeli citizenship; they are tacitly loyal to Assad.
~~~~~~~~~~
Yesterday I spoke with one of my key analysts – an Arab speaking Israeli journalist with significant knowledge of what is going on in the Arab world.  It is his opinion that Israel absolutely should not get involved inside of Syria in order to protect the Druze.  What Israel should do, he says, is provide them with the weaponry that will allow them to defend themselves.
If Assad goes, they will find it near impossible to shift loyalty to jihadis, even if they should wish to do so, he tells me. For these extremists would demand they follow their Islamic line. (The Druze religion is syncretic and not shared  readily with outsiders.)  By default, Druze loyalties would become pro-Israel, he predicts.
As to Israel providing a safe zone in Syria, at the Golan border, he points out with some logic that a good part of Syria would run to be in that safe zone, not just Druze, and Israel would be left with an untenable situation.  Israel should thus not rush to institute such a zone now, he believes, but rather consider doing it slowly and judiciously, and with Jordanian cooperation.
~~~~~~~~~~
Speaking of loyalty: how about on the part of all those in the Knesset?
Israel is facing the possibility of another flotilla incident.  Like we need this now.  In May, a trawler, the Marianne of Gothenburg, carrying a small crew, left from Sweden – the first in what is said to be a flotilla in formation. It has been stopping at a number of ports before heading for Gaza, and at some point is supposed to be joined by three or four other ships.
Credit: demotix

Overtly declaring intention of trying to break Israel's sea blockade of Gaza (a fully legal blockade); the organizers of the flotilla are seeking as much international press attention as they can garner.  They may be carrying some minimal supplies (ostensibly solar panels and medical supplies), but I think they have more or less abandoned the charade that their action is about bringing "humanitarian assistance" to the people of Gaza.  (Note: large quantities of humanitarian aid and other supplies enter Gaza from Israel routinely via land crossing points.)
Said Foreign Ministry spokesman Emmanuel Nachshon, "if the so-called helpful Gaza flotillas were really interested in the welfare of the population in Gaza, they would send their aid via Israel. The fact that they insist on a flotilla demonstrates this is an unnecessary provocation."
Israel has already declared unequivocally that the boats of this flotilla will not be permitted to enter the territorial waters outside of Gaza: "The navy intends to treat the ships [of this flotilla] just as it would any vessel that tries to enter Israel's territorial waters without authorization."
http://www.jpost.com/Arab-Israeli-Conflict/Arab-MK-to-join-third-Gaza-bound-flotilla-warns-Israel-not-to-intercept-it-406687
~~~~~~~~~~
While understanding that other methods may be necessary, Israel is attempting to use diplomatic channels to stop the flotilla.
And the Israeli NGO Shurat Hadin -The Israel Law Center is approaching the issue in its own fashion.  On Sunday Shurat Hadin's president, Nitsana Darshan-Leitner, sent a warning letter demanding that the Swedish bank Skandinaviska Enskilda Banken AB (SEB) "cease providing financial services" to the groups Free Gaza and Ships to Gaza, which are "helping to arrange a flotilla to breach Israel's lawful naval blockade of the Hamas-controlled Gaza Strip."  The letter noted that "SEB holds a maritime lien on the Marianne av Göteborg, the lead ship in the planned Gaza flotilla."
That flotilla ship, continued the letter, "might be destroyed or confiscated" by the IDF and warned that the Stockholm-based bank "is at serious risk of losing its collateral: The boat."
Such tactics have worked in the past.
~~~~~~~~~~
What has caused a furor here in Israel is the announced intention of Arab MK (Balad) Basel Ghattas to join the flotilla. I believe the vessel is now docked in Palermo and will be moving on to Athens, and then heading towards the Gaza coast in just days.
Ghattas declared that those on board, including several others who are going to join him, will not be carrying weapons. But, "If the IDF wants to kill, then shoot." As if the IDF routinely shoots unarmed persons.  False bravado – words he wouldn't dare utter to an authority that does shoot.
Any action to take over the vessel, warned Ghattas, would "complicate Israel with another international crisis."
There are furious charges from members of the Knesset that Ghattas is a traitor and provocateur, along with demands that his Knesset immunity be lifted and that he be otherwise investigated.
What is happening here with Ghattas is a problem we have faced on several occasions, regarding Arab MKs who are not loyal to Israel and eager to utilize Israeli democracy to weaken our state.
~~~~~~~~~~
And good news, which is so badly needed:
"Scientists at Israel's Weizmann Institute reported the results of their Personalized Nutrition Project.  They discovered that bacteria in the stomach of different people reacts differently to the same food.  Some even lost weight from ice cream and buttered bread."
.
http://www.timesofisrael.com/computer-algorithm-may-help-with-weight-loss/
___________________________
"There is no sign of the Palestinian Authority's BDS policy in Bethlehem.  During Kay Wilson's visit, she saw plenty of Israeli products in the supermarkets. She saw some Arabs driving cars that the rest of us could only dream of.  Kay's Facebook post went viral."
http://www.israelnationalnews.com/News/News.aspx/196806#.VYmOdZsVjIV
.
Seems Abbas is eager to promote BDS in order to weaken Israel, but not so eager so that he deprives Palestinian Arabs of Israeli products they seek.
____________________________
"An Israeli-developed smart flight helmet will detect emergency situations in which pilots are about to lose consciousness, and take control of the plane in order to prevent disasters.  Tel Aviv's Lifebeam developed the Cannary system with sensors measuring the pilot's vital signs."
http://www.timesofisrael.com/high-tech-israeli-helmet-will-prevent-flight-crashes/