Tag Archives:
Hate Speech
05/4/15
By: Denise Simon
FoundersCode.com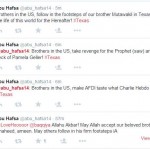 Make Dua in Texas, 2 Muslim convert roommates armed with AK-47's originating from Phoenix, Arizona. This 'winning the hearts of minds of our known enemies is NOT a working or effective strategy.
No bombs were found, however Garland Police had to detonate some luggage found in their vehicle. But the threats continue in social media against Pam Geller.
The dead shooter, Elton Simpson:
The jihadis were well known to the FBI and the Department of Homeland Security also continues to hold hearings on the circle of sympathizers in America and the threats they pose to our national security.
Garland, Texas ~ Police officers shot and killed the man, identified as Elton Simpson of Phoenix, and his companion Sunday evening, outside the Curtis Culwell Center, at an event organized by the American Freedom Defense Initiative, a New York-based group that also uses the name Stop Islamization of America. The gunfire, which began shortly before 7 p.m., left a security guard wounded.
In 2010, federal prosecutors in Arizona charged Mr. Simpson with plotting to travel to Somalia "for the purpose of engaging in violent jihad," and then lying to a federal agent about his plans. A judge found him guilty of lying to the agent, but said the government had not proved that his plan involved terrorism, and sentenced him to three years' probation.
The police and F.B.I. agents in Phoenix searched an apartment believed to be connected to Mr. Simpson, with much of the Autumn Ridge apartment complex cordoned off through the night. At the same time, the F.B.I. office in Dallas confirmed that it was providing investigators and a bomb technician to aid the police in Garland, a city just outside Dallas.
Officials did not give a motive for the attack Sunday evening, but drawings of Muhammad, considered offensive by many Muslims, have drawn violent responses in the past. Shortly before the shooting, messages were posted on Twitter with the hashtag #texasattack, including one saying, "May Allah accept us as mujahideen."
The hosts of the event include Robert Spencer and Pam Geller declared this attack a 'war on free speech' in America where the media has become Sharia compliant at the demands of Islam where Muslims declare only they have the ability to declare what is free speech and what is not.
The event in Garland had more than 200 attendees including Tom Trento of United West, Geert Wilders and Congressman Louis Gohmert (R-TX) who actually invited Wilders to the United States.
Geert Wilders had this message after the event:
Dear friends,
Thank you all for being here. It's great to be in Texas, the Lone Star State. The one star in the Texan flag represents all the free Western world needs today: defiance, pride and independence.
It is no coincidence that we are in Garland, Texas, tonight. It is here that, three months ago, shortly after the Charlie Hebdo massacre, Islamic activists convened to demand that free speech be curtailed. They want to prohibit cartoons, books and films which they find insulting.
Our answer is clear:
Don't mess with Texas!
Don't mess with the free West!
Don't mess with our freedom of speech!
Friends, allow me to thank Pamela Geller for organizing this exhibition.
Pamela is an extraordinary woman. I only have a few heroes, but Pamela certainly is one of them. Let us give her a big applause!
My friends, you are all winners. Everybody present here tonight deserves respect, just for being here.
The cartoonists, the participants in this Muhammad contest all did fantastic work. All of you are not only talented but also very brave. For Islam has put a death sentence on depicting Muhammad. But this has not frightened you. And even if it did, it has not stopped you. Because you believe in freedom of speech.
I applaud you for that.
However, there can be only one winner of the contest. And that is, as you already know, Bosch Fawstin. Bosch knows what he is talking and cartooning about, being a former – or in his own words recovered – Muslim.
I have known the fantastic work of Bosch – who also created the anti-jihad superhero Pigman – for many years already and I want to congratulate him for his bravery and excellent work and winning the contest today.
Your statement, my statement, the statement of every single person present in this room here tonight is clear: We will never allow barbarism, we will never allow Islam to rob us of our freedom of speech! Never!
I know from my own experience how dangerous it is to stand for this freedom. I know how dangerous it is to speak the truth about Islam.
I am on death lists of Al-Qaeda and the Pakistani Taliban and terrorists from ISIS because I tell people the truth about Islam. Islam has declared war on us, on our Judeo-Christian civilization. Islam wants to rob us of the freedoms and liberties. Islam and freedom are totally incompatible.
I am a politician, but cartoonists, like my good friends the Danish cartoonist Kurt Westergaard and the Swedish artist Lars Vilks, are also on the death list. Both Kurt and Lars have already been the victims of murder attempts.
Another man on this list was the cartoonist Charb, editor of the French magazine Charlie Hebdo. As we all know, he and 9 of his colleagues were murdered last January in Paris by followers of the religion of hate. According to Islamic Sharia law, they were all guilty of the same crime.
The crime of depicting Muhammad, the crime of defaming the so-called Prophet of Islam.
A crime punishable by death by the religion of death.
In order to show them that we will not have Islam dictate us the law, we are here with an exhibition of Muhammad cartoons.
We are here in defiance of Islam.
We are here to defend our rights and stand for freedom of speech.
That is our duty.
As Ronald Reagan, your greatest president ever, said: "Freedom is never more than one generation away from extinction. We didn't pass it to our children in the bloodstream. It must be fought for, protected, and handed on for them to do the same."
I am happy to say that nobody died while watching these cartoons.
This proves that, unlike jihadis, cartoons do not kill people.
Cartoons do not kill jihadis, but jihadis kill cartoonists.
That is a huge difference which we should never forget.
Huntington was wrong. It is not a clash of civilizations, but a clash between civilization and barbarism.
Our Judeo-Christian culture is far superior to the Islamic one.
I can give you a million reasons. But here is an important one.
We have got humor and they don't.
There is no humor in Islam.
In 1979, ayatollah Khomeini devoted an entire radio broadcast to this topic: "Allah did not create man so that he could have fun," the ayatollah said. "There are no jokes in Islam," he added. "There is no humor in Islam. There is no fun in Islam."
For once, the ayatollah was right.
Islam does not allow free speech, because free speech shows how evil and wrong Islam is.
And Islam does not allow humor, because humor shows how foolish and ridiculous it is.
Friends,
You are extremely fortunate to live in America. Because you have a first amendment.
In Europe, it is not just the jihadis who go after you. The authorities do so, too.
In the Netherlands, I have been dragged to court on hate speech charges for speaking the truth about Islam. I was acquitted, but now the authorities are prosecuting me again.
We are harassed, but sympathizers of the Islamic State are left in peace. Last Summer, they took to the streets in The Hague. They carried swastikas and ISIS flags. They shouted "Death to the Jews." And you know what? The authorities did nothing. We have weak leaders. Appeasers are ruling The Netherlands, Europe and the USA. We have to turn the tide and we will. New leadership is what we need to defend our freedom of speech and resist the ongoing Islamization of the West.
Today, many of our Western leaders want us to shut up.
When we tell the truth about Islam, they call it Islamophobia.
When cartoonists make drawings of Muhammad, they are accused of provoking people.
A few years ago, in my country, the Netherlands, the police even raided the house of a cartoonist.
In his address to the United Nations in 2012, President Obama said: "The future must not belong to those who slander the prophet of Islam."
But we say: The future must not belong to Islam!
Do you hear, Mr Obama? We say: No to Islam!!
Unlike President Obama and his European colleagues, we are not willing to sign away our freedom and independence.
The day we give away humor and freedom of speech is the day that we cease to exist as a free and independent people.
And that day will never come.
That is what this exhibition is all about!
From here we send a message to President Obama and all his colleagues: We will never submit!
We are not intimidated by Islam.
We will not be picking up swords and axes and breaking into people's homes. But we will not remain silent either.
Moderation in the face of evil is evil. This is not what our age needs. We must uncap our pens; we must speak words of truth. We are facing a determined enemy who is striving through all means to destroy the West and snuff out our traditions of free thought, free speech, and our Judeo-Christian values. Make no mistake: if we fail, we will be enslaved. So the only option is to defend our freedom with all the energy we have. It's time to be brave. It's time to do our duty.
Instead of giving in to fear and adopt the Islamic taboo on depicting Muhammad, I propose that we draw another conclusion:
Lift the cause of the fear!
Let us de-islamize our societies!
No more Islam, no more mosques, no more Islamic schools. It is time for our own culture and heritage.
Let us liberate ourselves from tyranny.
That is another good reason why we are having this exhibition here today.
Depicting Muhammad is an act of liberation!
Let us hold similar exhibitions all over the United States and all over the free world. From Canada to Australia to Europe.
We need Pamela Geller everywhere in the world.
I invite you to come to the Netherlands with this exhibition. I will help you exhibit these cartoons in the Dutch parliament building.
We will never allow Islam to restrict freedom!
And we will never bow in the direction of Mecca!
I am not saying that there are no moderate Muslims. Fortunately, there are Muslims who do not live according to the Islamic commands. But there is no moderate Islam!
Not all Muslims are terrorists. But most terrorists today are Muslims.
That is why we say: The less Islam, the better!
The Islamic creed obliges one and a half billion people around the world to take Muhammad as their example.
He led a gang of robbers, who looted, raped and killed hundreds of people.
Historic sources describe orgies of inhumanity. An example is the genocide of the Jews of Medina in 627. One of the head choppers was Muhammad himself. Confronted with the lunacy of Islamic terrorists today, it is not hard to find out whom they get their inspiration from.
It is from Muhammad who – we have to tell the truth – was a warlord, a murderer and a pedophile
There is no turning back once one has become a Muslim. For even though article 18 of the Universal Declaration of Human Rights states that every person has the right to "change his religion or belief," in Islam there is only a death penalty for leaving the faith.
So, let us expose Muhammad. Let us show the world what Islam truly is.
And let us support Muslims, like Bosch, who wish to leave Islam and liberate themselves from fear.
Apostates are heroes and more than ever they deserve the support of freedom loving people all over the world.
Muhammad fought and terrorized people with the sword.
We fight Muhammad and his followers with the pen.
And the pen will prove mightier than the sword.
Muhammad's followers fight us with bloodbaths, but today here in Garland we fight them with humor.
Because bloodbaths enslave, while humor liberates.
Let me end by quoting Sam Houston, the founding father of this great state of Texas:
"Texas has yet to learn submission to any oppression, come from what source it may."
May his words inspire us all today never to submit to Islamic barbarism.
Thank you very much.
04/11/15
By: Cliff Kincaid
Accuracy in Media
President Barack Obama has issued a declaration on human sexuality and what constitutes moral and mental health for the nation. He is warning Christian parents that the federal government wants their kids.
This is not how the story is being reported, however. For example, a story in Politico carries the headline, "Barack Obama denounces 'conversion therapies' for gays," with the words "conversion therapies" in quotes, as if to suggest there's some doubt that homosexuals can return to being straight. This is all too typical of the mentality that grips the major media and is designed to suggest that homosexuality is somehow natural and cannot be changed. But honest journalism, which is virtually non-existent when covering homosexuality, would take a different approach to the topic.
As Peter LaBarbera of Americans for Truth notes, there are plenty of former homosexuals. Has the Politico reporter Louis Nelson ever met or reported on them? We can't find any record of that. So if the magazine doesn't report on them, they must not exist. This is not journalism but cheerleading for Obama and the gay rights cause. It's also a disservice to the parents of young people who need help and have a right to information about both sides of the story.
Rich Wyler, founder and director of the group, People Can Change, does not exist in a world where the liberal media and the gay rights movement become one and the same. He says that before he found sexual-orientation change therapy in the 1990s, "I was so conflicted over unwanted same-sex attractions that I was suicidal and self-destructive." He goes on, "Sexual-reorientation therapy saved my life. I was in my 30s; I only wish I'd found this kind of help as a teenager or young adult. It could have saved me years of heartbreak and confusion."
The other side of the story would include reporting that Obama's political proclamation in favor of outlawing sexual-orientation change therapy not only constitutes crass exploitation of the terrible suicide of a mixed-up young person named Joshua Alcorn but serves as an indictment of his Christian parents. Joshua was confused about his sexuality and had begun referring to himself as a girl, Leelah. The parents had tried to get help for the troubled 17-year-old before he committed suicide.
The implication of the Politico-style reporting on this topic is that being "homosexual and transgender" is a fact of life that cannot be changed. That's false. But the media just can't bring themselves to report the facts.
Politico says the parents in this case found religious therapists who "attempted to convert her [Leelah] back into a boy." This, too, is false. The child was a boy. Politico calls him "a transgender girl," another falsehood.
In essence, Obama is proposing to ban parents, on a national basis, from seeking help for their children when they go through confusing times or have sexual problems. This is the totalitarian mind-set of the gay rights movement and its supporters.
This is not just a discussion about media bias. It's important we understand what's happening here. Obama's statement, delivered by Valerie Jarrett on his behalf, is a declaration of war on parents, especially Christian parents who object to the government sanctioning and promoting homosexuality as another "lifestyle."
From Obama's perspective, these parents stand in the way of creating an army of "LGBT" young people who will forever be grateful to the President for standing up for their "rights." Like the dope smokers in Colorado, participating in what Obama calls an "experiment," these young people constitute another Democratic Party constituency. Obama doesn't seem concerned, however, about the consequences of their immoral behavior. After all, he was a heavy dope smoker and look what happened to him and where he ended up.
Although Obama's statement on human sexuality was "not accompanied by any concrete statements of policy," as Politico put it, two states, California and New Jersey, as well as the District of Columbia, have banned parents from having a role in raising their children in this area of human sexuality. Politico seems to be begging the President to introduce national legislation to put parents in their place. Perhaps that's the next step.
Like the editors at Politico, Democratic Rep. Jerrold Nadler (NY) also seems to think Obama knows best. Nadler issued a statement declaring, "I believe that licensed mental health professionals should be prohibited from engaging in these deceptive and damaging practices." So the politicians, including Obama, are going to decide what constitutes "mental health." This is reminiscent of the approach taken by the USSR's psychiatric hospitals. Perhaps political dissidents on the issue of homosexuality in the United States will be assigned to the kind of mental hospitals the communists ran in the old Soviet Union.
In other words, a form of "conversion therapy" will be retained, but used on those who resist the homosexual movement's demands for our children. Believers in the old-fashioned values of one man and one woman marriage will be "re-educated," or else.
Citing Obama's declaration on the correct state of mental health, Richard Cohen of the Southern Poverty Law Center has declared, "Our fight for LGBT equality has just received a major boost." This well-funded leftist group is using the legal system to terrorize groups like JONAH (Jews Offering New Alternatives for Healing) from helping homosexuals escape the behavior that puts their mental and physical health in danger.
Cohen declared, "While President Obama has done the nation a great service by speaking out, he hasn't yet introduced any new policy initiatives. That's why our work is so important. We're going to trial [against JONAH] in New Jersey this summer, and we'll continue doing everything we can to stop the destructive use of conversion therapy across the country."
JONAH, with the help of the Freedom of Conscience Defense Fund, is fighting back and has affirmed, "We continue our defense of the right of individuals to freely choose the help they believe will allow them to live their lives consistent with their personal and religious beliefs."
As I noted in a recent column, a legal brief before the Supreme Court in a same-sex marriage case argues that a ruling against traditional values could result in websites offering information about withdrawing from homosexual behavior being outlawed as "hate speech."
Not only are the rights to freedom of the press and religion now at risk, parental rights are also in jeopardy. We are now seeing Obama and the progressives, including the homosexual movement, making a raw power grab for our kids. The parents are being labeled as the lunatics.
Yet while the Obama administration opposes counseling for young people who may want to change their sexual feelings from homosexual to heterosexual, they have no problem paying for traitor Bradley Manning to physically "change" from being a "he" to a "she." It is reported that the Army has agreed to pay for hormone treatments, makeup, and female underwear for Manning, who is serving a 35-year sentence for espionage and other charges, so he can become "Chelsea."
Obama's "fundamental transformation" of America is getting downright weird. It appears to be a one-way street away from our Judeo-Christian values. Like so many other policies pursued by this President, it's difficult to see how this one can do anything but weaken the United States.