It is just short of two years ago that Adelle Biton, then two years of age, was driving in the Shomron with her mother and two older sisters, when Arabs threw rocks at their car, causing it to spin out of control and collide with an oncoming truck.  Her mother and sisters were moderately injured. Adelle, however, incurred severe brain injury.  She spent a long time in a hospital and then time in a rehab center, before she was brought home, still severely disabled, to continue therapies.
Adva, her mother, was remarkable for her constant devotion and her optimism.
Credit: Yoni Kempinsky
~~~~~~~~~~
Today, Adelle Biton succumbed to pneumonia.
On learning the news, I cried.  Such a painful and unnecessary loss of tender young life.  Such anguish for the family.
And so, Baruch Dayan HaEmet.  The Almighty has taken Adelle.  May He grant healing for the hearts of Adva and her husband, Rafi, and other members of the family.
As to those who throw such stones (or firebombs or firecrackers), may He allow them no peace.
~~~~~~~~~~
An occurrence such as this brings us upright, and sharpens our perspective.  There are issues that truly, truly matter. And others that are imbued with nonsense and pettiness and self-interest.  And I say honestly today that I have precious little patience for the constant flow of nonsense and pettiness and self-interest that passes for "news" these days.
~~~~~~~~~~
Sadly, there is yet one more death I must report: Minister Uri Ohrbach, 54, passed away yesterday after a battle with an unnamed blood disease.  He had worked as a journalist and author for years, before joining a new Habayit Hayehudi and entering the Knesset.
He is being widely saluted as a man of exceptional sincerity, gentleness and wit. What is clear is that this was a man who was greatly loved.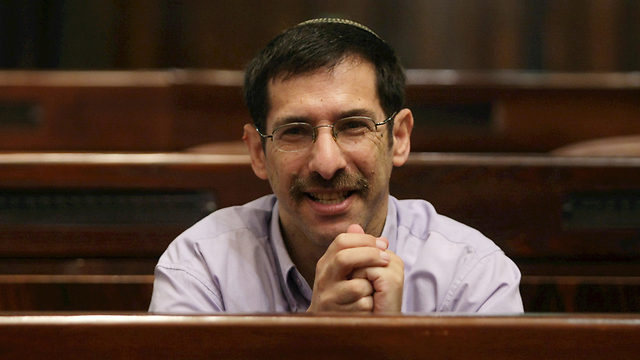 .
Credit: Alex Kolomoisky
~~~~~~~~~~
So, let us look at some of the news that does matter (if only people would pay attention):
Just a week ago, the IDF and the Shin Bet launched raids in the area southwest of Jenin, uncovering large quantities of firearms, ammunition and knives – sufficient to "strengthen [Hamas's] grip on the territory."  Hamas does not intend to stop trying, folks.  Let us not forget this.
~~~~~~~~~~
The IDF has warned the government that the PA could collapse at any time.
"In one of the scenarios that the IDF presented, a small localized security incident, like an altercation between settlers and Palestinians, or the throwing of a Molotov cocktail could quickly escalate to rioting in the Galilee and the Triangle area. With the weakened Palestinian Authority a situation like this is liable to lead to terrorist organizations taking control of the West Bank."
http://www.jpost.com/Arab-Israeli-Conflict/IDF-security-assessment-The-Palestinian-Authority-can-collapse-at-any-moment-390934
~~~~~~~~~~
Repeatedly, it has been the case that rumors spread by Palestinian Authority "leaders" regarding alleged Israeli threats to the Al Aqsa Mosque have served as incitement – whipping up the populace to fury and violence.
Now we learn from the Palestinian Media Watch that the PA is renewing this incitement:
For example, on February 5, the PA Minister of Religious Affairs Sheikh Yusuf Ida'is warned that since January, Israel has made "over a hundred attacks and incidents of desecration of the Al-Aqsa Mosque and the Ibrahimi Mosque (i.e., Cave of the Patriarchs)" and that "the Al-Aqsa Mosque is in grave and direct danger and that with every sunrise. this danger grows."
Similar statements are being made by others.
http://www.palwatch.org/main.aspx?fi=157&doc_id=14016
~~~~~~~~~~
Defense Minister Bogie Ya'alon, for his part, has leveled another sort of charge at the PA. In a taped address to the annual conference of the INSS – the Institute for National Security Studies, he said:
"We tried after [Operation] Protective Edge, with Egyptian agreement, to facilitate the entry of the PA into the Strip, but they didn't want it,"
"…it was clear that the only way to allow the more open transfer of goods and people in and out of Gaza to Israel and Egypt would be through the stationing of PA troops at the border crossings.
"We created a three-way mechanism – the [Israeli] Coordinator of Government Activities in the Territories, the Palestinian prime minister, and the UN representative Robert Serry. What's left of that today?  The coordinator and Robert Serry. The Palestinians ran away!  They are good at accusing us at the UN and the Security Council and the ICC. But when it comes time to take responsibility, they are nowhere, and this was not the first time." (Emphasis added)
http://www.timesofisrael.com/yaalon-lambastes-pa-for-bailing-out-on-plan-to-ease-gaza-blockade/
~~~~~~~~~~
In sharing this accusation by Ya'alon, I am not endorsing the idea of PA officers at the Gaza crossing.  My intent, rather, is to point a finger directly at the PA and to be certain that people understand precisely what we are dealing with.  With the focus on Iran, I hadn't mentioned Abbas or the PA for several days.
Martin Indyk, who consistently works against Israel's best interests, has just made a statement regarding what's going to happen after the elections. There will be increased pressure on Israel to go back to negotiations, he warned, including via a Security Council resolution.
And my inclination is to tell him, and all of his ilk, to stuff it. We are supposed to make "peace" with these guys?  They are going to administer a secure and responsible and peaceful state?  Of course neither Martin or others who think as he does believe a peaceful "two-state solution" is really around the corner. But hey, if Israel can be weakened…
The lesson.  We have to be on our guard in all quarters.
~~~~~~~~~~
Of course, there is also the occasional politician on the far left here in Israel who says it's time for us to withdraw unilaterally from Judea and Samaria since negotiations don't work.  Great idea!  I believe they have oatmeal between their ears in place of brains.
~~~~~~~~~~
Yesterday, Lt.-Gen. Gadi Eisenkot was sworn in as IDF Chief of Staff, replacing Benny Gantz.  Eisenkot is described as "cool and calculated, someone who will strike hard and fast – but only if he has to."  He served in the vaunted Golani Brigade.
We can only pray for General Eisenkot's wisdom and bravery and cool head, as he faces incredible challenges in the weeks and months ahead.
Credit: Israel Defense
~~~~~~~~~~
The Conference of Presidents of Major Jewish Organizations is meeting here in Jerusalem this week.  I close today by sharing a video of the remarks of Prime Minister Netanyahu to this group.  His focus, of course, was his up-coming speech in the Congress on Iran.  Worth a listen.
http://www.voiceofisrael.com/netanyahu-conference-presidents-sacred-duty-make-israels-case/?utm_source=ZohoCampaigns&utm_campaign=Feb+16%2C+2015_2015-02-16&utm_medium=email