As you have undoubtedly observed, the state of the world is terrible and growing worse.  Social unrest, violence, threats of violence and more are all about us: From yet another – particularly horrendous – terror attack, this one in Nice; to an illegal immigrant problem in Europe that is out of control and endangers the entire European society; to Iran's   belligerent stance; to repeated incidents of racially motivated murders of police officers in the US.  (Remember Obama's promise eight years ago of a time of "post-racial" harmony?)
Could I begin this posting without alluding to these exceedingly alarming matters? They can be ignored only at great peril.
Credit: istock
In particular is this the case with regard to Islamist terror – which is still not being confronted within Europe and the US with either honesty or anything resembling requisite resolve.  After the Nice attack French Prime Minister Manuel Valls declared that France is going to have to learn to live with terror.
http://dailycaller.com/2016/07/15/french-prime-minister-on-nice-terror-attack-france-is-going-to-have-to-live-with-terrorism/
Then there is the inability (or refusal) on the part of European officials to address the threat presented by the influx of a huge hostile Muslim population.  There is actually a tendency in certain parts of Europe for authorities to hide statistics on rape and sexual aggression by Muslim immigrants, for fear of alarming the populace.
http://www.spectator.co.uk/2016/01/its-not-only-germany-that-covers-up-mass-sex-attacks-by-migrant-men-swedens-record-is-shameful/
While the world most definitely prefers to ignore the intentions of Iran – and, in fact, is all too accommodating.  News has just broken about a "secret deal" – an "add-on document" revealed by AP – which was apparently approved by the US, Russia, China, Britain, France and Germany.  It "will ease [nuclear constraints on Iran] in slightly more than a decade, cutting the time Tehran would need to build a bomb to six months."
http://www.timesofisrael.com/secret-document-reveals-key-iran-nuclear-constraints-will-ease-in-10-years/
Defense Minister Avigdor Lieberman, speaking to the Knesset Foreign Affairs and Defense Committee, identified Iran as Israel's greatest threat: Iran "continues to develop its military missile program with full force," he said.
http://www.timesofisrael.com/iranian-threat-tops-hamas-islamic-state-liberman-tells-knesset/
While over in the US, after the Baton Rouge massacre of police officers, Attorney General Loretta Lynch – fueling tensions – opined that, while people should not be violent, their feelings of "helplessness" and "fear" are "understandable" and "justified."
http://www.frontpagemag.com/point/263550/ag-lynch-suggests-baton-rogue-police-massacre-daniel-greenfield
Not only has a huge black-white rift emerged in the US, there are anti-Israel overtones within the "Black Lives Matter" movement.  Most recently, Atlanta's mayor, Kasim Reed, flatly rejected "Black Lives Matter" demands that Atlanta's police stop associating with Israeli police. Israel is referred to as "Apartheid Israel," and black identification is with the people of Gaza.  (Should we be surprised?)
https://www.algemeiner.com/2016/07/19/atlanta-mayor-flatly-rejects-demand-from-local-black-lives-matter-group-to-cut-ties-with-apartheid-israel
~~~~~~~~~~
It is hardly possible for me to address all of these issues in any detail in this one posting – I can only point in a number of very important directions.
Having done so, I want to narrow my focus to Israel-related matters.  In this regard, there is some good news.  I didn't start with it, but happily it does exist.
~~~~~~~~~~
Right now is an especially auspicious time for me to mention the Legal Grounds Campaign, which I co-chair with Jeff Daube –http://israelrights.com
Last week we had the closing ceremony for our pilot law course.  Ten law students were provided with eight classes taught by top notch international lawyers on issues regarding our rights in the land – issues that are often not adequately touched upon in the law schools.  We now have ten students who will be far better equipped to address these issues once they begin their law careers.
We are delighted about this.  Having proven that we can do this successfully, we are aiming for more students and more classes next year.  This is a real and important contribution to Israel's future.
~~~~~~~~~~
At the same time, Jeff and I are working on the first video for Legal Grounds – a presentation of the case for our rights in the land.  There is so much disinformation out there, so much confusion on the various legal and historical issues, that we believe it is critical for us to present our case cogently, simply, and with great clarity.  To be done in Hebrew and English versions, it will be dynamic and cutting-edge.  We hope it will go viral.
We are grateful to generous donors who have provided the basic funds for the production of this video: we are very close to signing on a video producer.
Credit: zyxel
~~~~~~~~~~
My friends, I share quite candidly the fact that my intensive work on the Legal Grounds Campaign has prevented me from posting as frequently as has been my habit.  Thus does a posting such as today's have a feel of being not just a current report, but a review of recent events.
~~~~~~~~~~
As of last Wednesday, the 13th, Theresa May officially succeeded David Cameron as prime minister of Great Britain.  This definitely counts as good news.
Credit: Reuters
During her service as home secretary, she demonstrated very warm feelings towards Britain's Jewish citizens, and voiced support for Israel.  She visited Israel in 2014, has spoken before a variety of Jewish groups, and, also in 2014, banned the French anti-Semitic comedian Dieudonne from entering the UK.
http://www.timesofisrael.com/theresa-may-jews-and-israel-6-connections/
~~~~~~~~~~
Prime Minister May's selection of Boris Johnson, former mayor of London, as Foreign Secretary, is also being celebrated: Johnson has a history of exceedingly supportive ties to the Jewish community and to Israel.
Credit: Wikipedia
He was here last November in order to boost London-Jerusalem ties.  Commenting on supporters of BDS, he referred to them, as "corduroy-jacketed lefty academics." (One version reports – even better – that he said "corduroy-jacketed, snaggletoothed, lefty academics.")
"I cannot think of anything more foolish [than to boycott] a country that, when all is said and done, is the only democracy in the region, the only place that has in my view a pluralist open society."
http://www.algemeiner.com/2016/07/17/british-jewry-hails-appointment-of-staunch-israel-supporter-boris-johnson-as-new-foreign-secretary/
Referred to as a "larger than life character," he is, admittedly, a bit idiosyncratic. But that's quite OK.  He sounds like our kind of guy.  He has not endeared himself with the Palestinian Arabs.
~~~~~~~~~~
The best vote of confidence in Israel: the arrival of new olim (immigrants).  On Tuesday, 218 people from N. America made the flight, to come home.  They were assisted by the organization Nefesh b'Nefesh.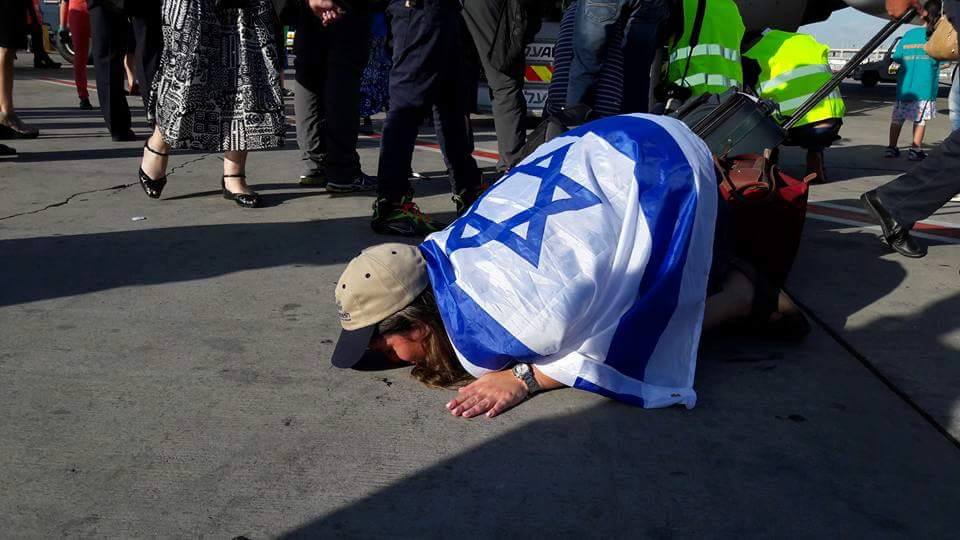 Credit: MyIsrael
The Nefesh b'Nefesh goal for the summer is 2,000 olim.
http://www.jpost.com/Israel-News/Over-200-new-immigrants-from-North-America-arrive-in-Israel-460807
~~~~~~~~~~
I will mention here, just briefly, the July 10th visit to Israel of Egyptian Foreign Minister Sameh Shoukry.  This was the first visit to Israel of an Egyptian foreign minister since 2007, and the tone was most cordial.  Recently a growing relationship between Israel and Egypt – with enhanced intelligence cooperation – has come to light, spurred in part by mutual concerns about ISIS.
Shoukry came promoting a reinvigoration of "the peace process," with Egyptian involvement.  It's that Egyptian involvement that Netanyahu welcomes, as it undercuts EU efforts.
There is talk of arranging for a meeting between Netanyahu and Egyptian President Abdel-Fattah el-Sissi but it is not clear whether this will materialize.
http://www.timesofisrael.com/on-rare-israel-visit-egypt-fm-pushes-for-renewed-peace-talks/
Credit: Hadas Parush/Flash90
~~~~~~~~~~
Also briefly: An agreement for normalization of ties between Israel and Turkey was reached at the end of June.  Vastly leery of the Islamist perspective of Turkish President Recep Tayyip Erdogan, I had a response to this that was not positive, and I was hardly the only one reacting this way.  In many quarters it was felt that Turkey gained too much, and Israel demanded too little.
What was particularly galling was the apology by Israel for the deaths of nine so-called "activists" who were aboard the Turkish ship Mavi Marmara – which was attempting to break the Gaza blockade six years ago. Those who died had ambushed and viciously attacked Israeli navy commandos who had come aboard to demand that the ship alter its course.  A compensation fund for the families of those who died is to be established to the tune of $20 million.  It feels altogether too much like an inappropriate admission of culpability from our side, a sort of appeasement.  (The quid pro quo here is supposed to be that legal action against Israelis involved would be dropped.)
What is greatly disturbing, Turkey was not required to banish Hamas, but simply to ensure that Hamas not plan terrorism from inside its borders.  Right….
On the other hand, Turkey did not secure one of its major demands, which was the end of the Gaza naval blockade.  Turkey will be able to provide relief provisions to Gaza via an Israeli port, and to lend assistance to Hamas with reconstruction inside Gaza.  (Eyebrows are raised over this last concession, which raises questions about the nature of the Turkish assistance to Hamas, particularly with regard to construction of "hospitals," which Hamas uses as military headquarters.)
Some in the know are saying that the prime motivator of this agreement was gas.  Turkey, whose ties with Russia are not what they once were, requires gas.  And Israel is most interested in selling.
http://www.globes.co.il/en/article-gas-execs-see-israel-turkey-gas-deal-by-2017-1001135479
Others say that this agreement increases stabilization in the area, but that remains to be seen.  There is even a question now as to whether the failed military coup in Turkey will end up weakening the rapport with Israel.
~~~~~~~~~~
I fervently wish that I could say that in Israel all is peaceful and easy, but of course that is not the case.  Terror attacks and attempted attacks continue:
On Sunday morning, alert security guards stopped a suspicious Palestinian Arab man from boarding the light rail at the Jaffa Street station near King George Street, right in the center of town.
Credit: Shmuel Bar Am
Turned out that he was carrying three pipe bombs as well as knives.  Had he successfully boarded, it would have been a horror.  The terrorist was from a village near Hevron.
http://www.jpost.com/Arab-Israeli-Conflict/Police-arrest-Palestinian-suspected-of-carrying-explosive-device-460610
~~~~~~~~~~
I want to share this article by Ruthie Blum – "Where is the feminist outcry?" – because the world so little understands the nature of our enemy, and what we must contend with (emphasis added):
"The recently appointed head of Israel's Shin Bet internal security agency gave his first presentation on Tuesday to the Foreign Affairs and Defense Committee of the Knesset. As part of his overview of the country's current situation, Nadav Argaman addressed the role of Arab women in the terror wave against Israelis that began last September.
"More specifically, he talked about the way in which Palestinian girls and women are being forced by the norms of their society to become cannon fodder in the 'lone-wolf intifada'…
"According to Argaman, so far more than 40 girls and women have been wounded, killed or arrested for committing — or attempting to commit — terrorist attacks against Israeli soldiers and civilians. These acts are both homicidal and suicidal in nature: geared toward murder, on the one hand, but usually involve or result in self-sacrifice.Indeed, a teenage girl who runs up to a group of IDF soldiers while flailing a knife and shouting 'Allahu akbar' knows she is not long for this world. Even those who go after unarmed passersby are aware that they are likely to be shot in the process.
"…most of these women had 'shamed' their families in some way — through what is considered to constitute sexual misconduct. This could include anything from flirting with the wrong boy — a Christian, perhaps — to engaging in actual or perceived adultery.
"These women know that what awaits them is a painful, humiliating and often slow death at the hands of one or more male relatives — fathers, brothers, uncles, cousins — with no intervention on the part of their mothers or the Palestinian police.
"Yes, honor killing is alive and well in the Palestinian Authority, whose leaders traipse around the United Nations in Armani suits to bemoan Israeli injustices.
"To 'launder' their inevitable end, many Palestinian girls opt to go out with a literal bang and become 'martyrs.' Some, Argaman said, are encouraged to do so — even driven to the site of the terrorist attacks they are told to commit — by their parents. If the girls are put to death for dishonoring their families, the stain remains. If, on the other hand, they are killed in the process of maiming Jews, their parents are guaranteed adulation and a hefty monthly stipend from the coffers of the PA, filled regularly by the United States and Europe…"
http://israelagainstterror.blogspot.co.il/2016/07/where-is-feminist-outcry-ruthie-blum.html
~~~~~~~~~~
Blum's title is right-on. It has long been a sore point with me: the failure of left wing so-called feminists to cry out on behalf of their Palestinian Arab sisters.  Because this involves  Palestinian Arab society, they prefer to turn a blind eye.
Please, share this broadly.
~~~~~~~~~~
And lastly here a look at who we are – along with further information on who they are (emphasis added):
The Knesset Special Committee on the Rights of the Child is working to resolve the issue of Palestinian Arab child beggars. It was revealed that "there are dozens of children aged five to 17 begging in the streets, the vast majority in Arab villages.
"They are mostly minors…who come through crossings or open areas, or children from East (sic) Jerusalem…This is a growing phenomenon [especially] during the holidays and summer vacation.
"…these children, who often suffer from physical and sexual abuse, are often forced by adult handlers to beg on the streets for 11 hours per day."
Frustration has been expressed because of a lack of cooperation on this issue within the Palestinian Authority.
http://www.pressreader.com/israel/jerusalem-post/20160719/281629599617196
~~~~~~~~~~
A long posting, my friends, I know. Hopefully a valuable one. There is more, much more.  Next time.
~~~~~~~~~~
"Ana BeKoach" – a mystical song that is a special favorite of mine.  It feels right for today and I like this version (although I don't know why the illustration utilized).
https://www.youtube.com/watch?v=I3IW4S7DlSo
"We beg, we beg thee with the strength and greatness of thy right arm, untangle our knotted fate.
Accept your people's song, elevate, elevate and purify us."