By: Denise Simon | Founders Code
Primer:
The Magistrate Court in Florida has pulled (deleted) the information related to Judge Reinhart… hee hee… you don't say.
Oh and the Judge recused himself in a RICO case Trump has against Hillary Clinton et al.
Meanwhile…
His resume includes that he studied at Princeton and the University of Pennsylvania and went on to work at the U.S. Treasury Department and in the Department of Justice's public integrity section.
As nutty as it may be, Reinhart was actually appointed by President Trump… then there is this? (making a correction here thanks to a patriot)
The process is as follows:
A U.S. magistrate judge is a judicial officer of the district court and is appointed by majority vote of the active district judges of the court to exercise jurisdiction over matters assigned by statute as well as those delegated by the district judges. The number of magistrate judge positions is determined by the Judicial Conference of the United States, based on recommendations of the respective district courts, the judicial councils of the circuits, and the Director of the Administrative Office of the U.S. Courts. A full-time magistrate judge serves a term of eight years. Duties assigned to magistrate judges by district court judges may vary considerably from court to court.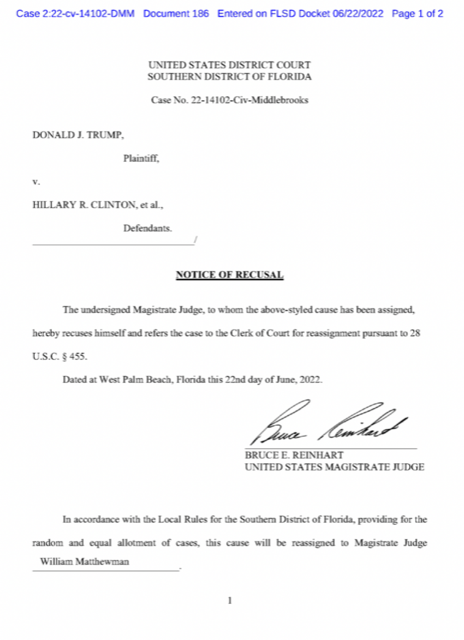 That lawsuit that Trump has in short is as follows:
Defendants who consented to the delay included the Democratic National Committee; HFACC, Inc.; DNC Services Corporation; Perkins Coie, LLC; Michael Sussmann; Marc Elias; Debbie Wasserman Schultz; Jake Sullivan; John Podesta; Robert Mook; Fusion GPS; Peter Fritsch; Glenn Simpson; Nellie Ohr; Igor Danchenko; Neustar, Inc.; and Rodney Joffe. The Trump lawsuit alleged civil violations of the Racketeer Influenced and Corrupt Organizations Act, injurious falsehood, theft of trade secrets, violations of the Stored Communications Act, and other actions — 16 in total. Clinton and a significant percentage (if not all) of the named defendants have moved to dismiss the case, mostly because the statute of limitations for the claims pressed by Trump have already passed. More details here.