By: Denise Simon | Founders Code
The first glaring omission is the media. Outside of Fox News and a minute or so with Jake Tapper, nothing was mentioned by the legacy media including print media. One has to wonder if the Clinton Foundation or the Brookings Institute actually paid key media to advocate the whole operation from its inception. Will there ever be an apology or retraction not just to Donald Trump but to those whose lives were turned upside down including General Flynn, Paul Manafort, Michael Cavuto, and countless others? Furthermore, every person in this country suffered through years of the hoax … THE BIGGEST LIE of all in our history. We are a divided country, never to be restored as proven by the rebuttals of Andrew McCabe, Peter Strzok, and Hillary herself.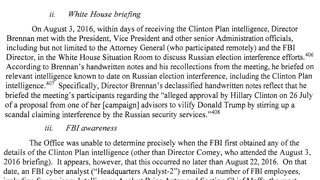 To be sure, while all sources including the Durham report having Hillary 'approving' the Clinton plan, you can bet she did not concoct it from the start… she merely approved it. So, the Durham report leaves out the real genesis of the hoax. Consider those that Durham did not interview in his investigation: Hillary, Comey, Strzok, Lisa Page, Susan Rice, McCabe, John Podesta, and many others that were likely the players in the whole plan from the start. Did Durham obtain the various types of communication from those people or others such as Barack Obama, Loretta Lynch, Joe Biden, Susan Rice, Adam Schiff, Eric Swalwell, or Harry Reid? Nah…
What about Stefan Halper or Joseph Misfud? What about Robert Mueller and his team and their alleged documents?
Meanwhile, everyone one of those people should have their security clearances stripped. Every willing accomplice should be forced to pay at least the legal fees of those victims of this hoax such as Carter Page. Let the civil suits begin.