As the news keeps coming with regard to the horrors of the Iran deal – and the horrors of how Obama and Kerry are conducting themselves – I have no choice but to continue to write on the subject.
This issue remains number one in importance for Israel, and for the Western world.  It must be taken with dead seriousness, and yet the the unfolding of revelations has become something of a self-parody.  One is tempted to respond, "Nah, this cannot be happening…"  But it is.
Consider:
During a Senate Foreign Relations Committee hearing last week, a mind-boggling issue was raised by Senator James Risch (R-Idaho) and then pursued by Senator Robert Menendez (D-NJ). The question at hand: Does Iran get to collect its own soil samples from the military site at Parchin for analysis by IAEA?  Senator Risch's understanding was that the IAEA will be monitoring Iran's soil collection by video.
As Fred Fleitz, "a former intelligence analyst experienced in the collection of environmental samples for investigations of weapons of mass destruction," explained in National Review (emphasis added):
"The revelation that Iran will collect samples concerning its own nuclear-weapons-related activity makes the whole agreement look like a dangerous farce. This is not just an absurd process; it also goes against years of IAEA practice and established rules about the chain of custody for collected physical samples."
From where I sit, there could have been only one acceptable response by Kerry to these queries on process: "Of course Iran will not collect its own samples."  But instead Kerry let it be known that this issue was covered in a side agreement and was confidential.  Would confidentiality be necessary if it were a straight up process structured with integrity and an eye to keeping Iran accountable?
http://www.nationalreview.com/article/421550/iran-nuclear-bombshell-Iran-police-itself
~~~~~~~~~~
Kerry then followed up with a statement on Friday at the Council of Foreign Relations in NY that was a pathetic mix of attempted intimidation and postured self-pity (All emphasis following here added):
As to intimidation, he said: "[if Congress rejects the Iran agreement] our friends in Israel could actually wind up being more isolated, and more blamed."
MK Michael Oren (Kulanu) responded thus:
"If American legislators reject the nuclear deal, they will do so exclusively on the basis of US interests. The threat of the secretary of state who, in the past, warned that Israel was in danger of becoming an apartheid state, cannot deter us from fulfilling our national duty to oppose this dangerous deal."
While Minister Yuval Steinitz (Likud) countered that:
"Israel will make its views clear on the Iranian nuclear issue, which is relevant to its security and its existence, and no one has the authority to intimidate us." What is more, Steinitz pointed out, objections are not coming exclusively from Israel: "Criticism of the agreement in the United States in general and Congress in particular is due to the serious flaws and loopholes displayed in the deal."
http://www.timesofisrael.com/israeli-minister-rejects-kerrys-intimidation-on-iran-deal/
I have a strong aversion at this point to having Kerry refer to Israelis as "our friends in Israel."  I think not. His statement is a follow-up to an earlier one – that any military action by Israel would be an "enormous mistake."
~~~~~~~~~~
But this argument by Kerry as to why Congress had to vote to accept the accord perhaps wins the prize for offensive and ludicrous positions (emphasis added):
"…it would be embarrassing to him and a blow to US credibility on the world stage if Congress rejects the deal.
"It would be a 'repudiation of President Obama's initiative and a statement that when the executive department negotiates, it doesn't mean anything anymore because we have 535 secretaries of state.'
"'I mean please. I would be embarrassed to try to go out. What am I going to say to people after this as secretary of state.'"
~~~~~~~~~~
Tears out your heart, does it not? The prospect that John Kerry might be embarrassed before the ayatollahs.
Credit: atlasinfo
For members of Congress not already angry, this statement should make them furious.  Kerry is negating the Congressional role mandated by the Constitution, and claiming unilateral prerogative to make earth-shaking agreements.  What would he say to people? That the US is a democracy, and has a due process by which he must abide. That it was understood when he got up from the negotiating table that agreements would not be final until after a Congressional review.
Kerry's attitude here is a reflection of that of his boss.  Obama behaves in an autocratic fashion that is not consistent with the role of the president of a democracy.
~~~~~~~~~~
"A top adviser to Iran's Supreme Leader Ayatollah Ali Khamenei vowed Saturday that the Islamic Republic would deny International Atomic Energy Agency (IAEA) inspectors any access to the country's military sites, contradicting remarks by US officials following the signing of a nuclear agreement with Tehran last week.
"'The access of inspectors from the International Atomic Energy Agency or from any other body to Iran's military centers is forbidden," Ali Akbar Velayati, Khamenei's adviser for international affairs, said in an interview with Al-Jazeera satellite TV. Velayati further stressed that the directive will be enforced regardless of interpretations by the P5+1 world powers to the contrary.'"
http://www.timesofisrael.com/iran-says-inspectors-to-be-barred-from-military-sites/
Two points to make here: First, and most importantly, this signals the futility of striking an agreement with Iran – for Iran will not adhere by it in any event, as its leaders will do as they please.
And then, the refusal to allow inspectors into Iranian military centers rather confirms the charge that at Parchin Iran will be doing its own soil collection.
~~~~~~~~~~
I want to share here a video of Senator Ted Cruz (R-TX).  The Senator was speaking at a rally against the Iran deal – and for the release of American hostages held by Iran – in front of the White House last week and was harassed by leftists calling themselves "Code Pink."  The senator's method of handling the hecklers is a pleasure to watch – a class act.  But I am sharing this because he responds rationally to their charges, and this is precisely what we need: rational answers when all sorts of off-the-mark charges are leveled against those battling the Iran accord.
There is, to provide one example, the charge that those for the accord, which offers a "diplomatic resolution," are for "peace," while those against it are "for war."  The critical point that the Senator makes is that peace comes with strength, and that the accord makes war more likely.  (More on this below.)
https://www.youtube.com/watch?v=1QCbpafD3Pw
~~~~~~~~~~
What was left out of mainstream media coverage of this rally was background on who the Code Pink hecklers are.  Code Pink is an NGO led by women, which claims to be "pro-peace."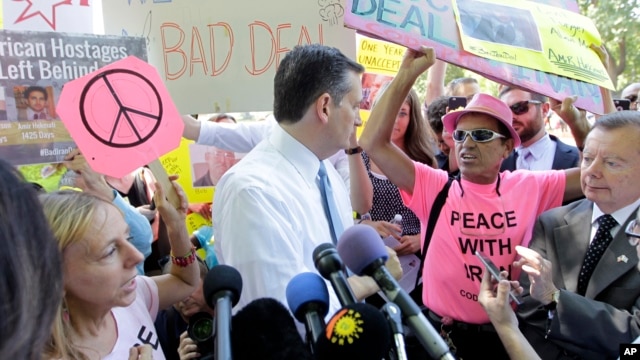 Credit: AP
According to Gateway Pundit:
"Code Pink co-founder Jodie Evans was an early fundraiser and bundler for Barack Obama's 2008 presidential campaign. Evans has met with several times over the years with President Obama and his most trusted White House adviser Valerie Jarrett. Code Pink has acted as a messenger between terrorists and Obama.
"Code Pink travels to Iran as guests of the regime. Code Pink leaders are regulars on the Iranian government's PressTV propaganda outlet. Code Pink did Iran's bidding in an effort to undermine the government of U.S. ally Bahrain in 2012."
http://www.thegatewaypundit.com/2015/07/code-pink-ties-to-obama-iran-not-reported-in-ted-cruz-debate-coverage/
This is information that ought be shared.
~~~~~~~~~~
Let me close with this outrageous exchange between a journalist and White House spokesman Josh Earnest, held right after that rally (shared by The Gateway Pundit, with my emphasis added):
"Q Secondly, I wondered if you were aware that, just before the briefing, Senator Cruz was across the street at Lafayette Park. It was a protest against the nuclear deal. Among other things, he was very vocal about how, because of the sanctions being lifted eventually, that there would be so much money flowing into the country that the country would use the money to 'kill Americans.' Do you have any thoughts about that?
"MR. EARNEST: Well, Anita, I was aware that Senator Cruz was planning to hold a pro-war rally in front the White House today. I didn't see actually how many people turned out for the rally, but it doesn't sound like he said anything there that he hasn't said anywhere else.
"Q Pro-war rally? Is that what you just called it?
"MR. EARNEST: I did.
"Q You have no other thoughts about it?
"MR. EARNEST: I think that pretty much says it all."
Really low.  It is what happens when there is no good argument for a position one has embraced: Rely on insults and innuendoes. Senator Cruz's rally was NOT "pro-war."
~~~~~~~~~~
David Greenfield, writing in FrontPage, described part of the exchange between Cruz and Code Pink – with regard to being "pro-war" – this way:
"One CODEPINK member responded to Cruz by saying that he does not like 'war mongers' and asking Cruz, 'Why are you so aggressively violent?'
"'I recognize that the folks in CODEPINK like to hold up signs saying, "Peace with Iran." You know who doesn't reciprocate those views? Iran,' Cruz said, to cheers.
"'In the midst of this negotiation, the Ayatollah Khamenei led thousands of Iranians in chanting death to America while they burned American flags and Israeli flag,' Cruz continued to more applause. 'Iran has stated its objective to murder as many Americans as possible. They are not seeking peace with us.'"
http://www.frontpagemag.com/point/259572/white-house-code-pink-attack-ted-cruz-rally-us-daniel-greenfield