By: Denise Simon | Founders Code
In February of 2020, this site published an article describing the California Public Pension Fund's investment in Chinese stocks that could lead to national security risks and even spying. The value of the fund is $3.1 Billion. Meanwhile, Speaker Pelosi refuses to approve House committee hearings on anything related to China….
The Chinese Communist Party has both different accounting rules for corporations reporting financial data and or refuses to release any accounting data. How and why Chinese companies are listed on U.S. Stock Exchanges in the first place is an unanswered question and one that is likely being reviewed now by the Securities and Exchange Commission along with several other agencies due to a very contested relationship between the U.S. and China due to the virus outbreak.
Please find linked a complete list of all Chinese companies listed on the NASDAQ, New York Stock Exchange, and NYSE American, the three largest U.S. exchanges. As of February 25, 2019, there were 156 Chinese companies listed on these U.S. exchanges with a total market capitalization of $1.2 trillion.
An asterisk next to the stock symbol indicates a company with at least 30 percent state ownership. As of February 25, 2019, there were at least 11 Chinese state-owned companies listed on the three major U.S. exchanges.
A highlighted row indicates a company that was not included on the Public Company Accounting Oversight Board's (PCAOB) September 2018 review of non-U.S. companies where the PCAOB is denied access to conduct inspections.
So as an interesting measure to begin measures against China, President Trump issued a letter to the Labor Secretary to halt investments in Federal Savings Plans in Chinese equities.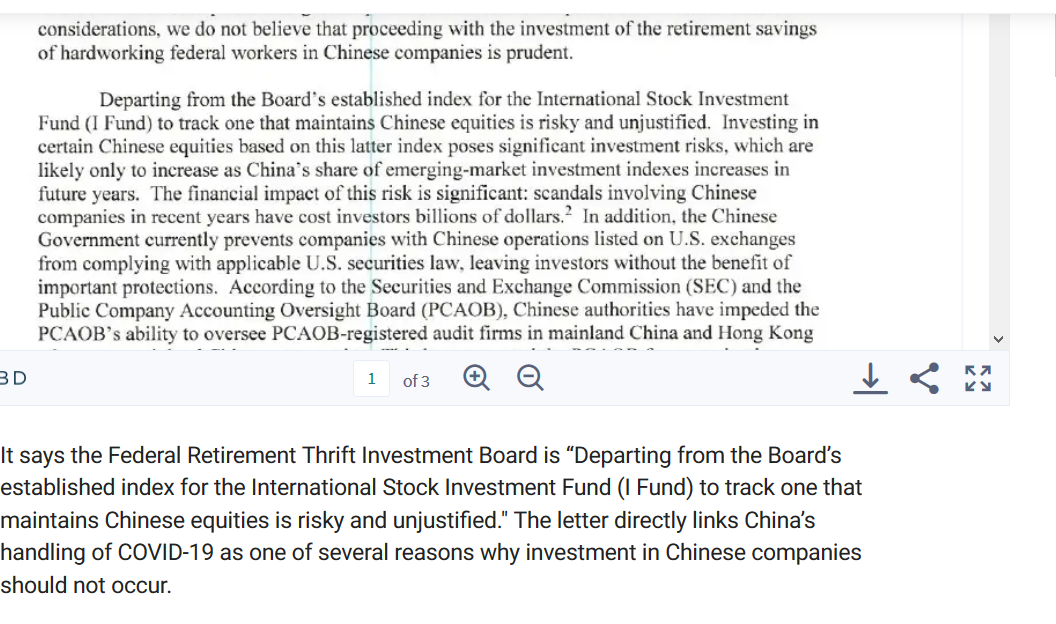 A second letter was sent by the Secretary of Labor to the Thrift Investment Board and that is found here.
Rather than the normal contested and really stupid questions that the media asks during White House daily briefings, there are some real questions that should be asked and they include all things China.
For some context on how China is all over the United States, consider the information below.
For many Chinese companies, their dreams of listing in New York are only on hold.
Some high-profile Chinese stocks listed in the U.S. such as Luckin Coffee, the self-proclaimed Starbucks rival in China, have been rocked following allegations by short-sellers that these companies faked their numbers, accusations that in some cases are now being internally investigated.
The reports are the latest challenge for Chinese initial public offerings in New York, on top of U.S.-China trade tensions and the impact of the coronavirus.
But some in the cross-border IPO business say the listing plans are just delayed, not canceled.
"I do know Chinese companies that are planning to list this summer as soon as after Labor Day," said Jim Fields, a Shenzhen-based producer of videos for Chinese companies presenting to potential IPO investors in the U.S. China celebrates the holiday on May 1.
Fields noted the new IPO timeframe is a delay of about one to three months.
Last year, 25 Chinese issuers went public in the U.S., in addition to three special-purpose acquisition companies — companies that raise money to buy another — according to Renaissance Capital, which sells IPO-focused exchange-traded funds. That's down from 32 Chinese listings in 2018, which was double that of the prior year and the most since 2010.
Despite geopolitical and epidemiological challenges in the first three months of this year, seven Chinese companies and three special-purpose acquisition companies went public in the U.S., according to Matthew Kennedy, IPO market strategist at Renaissance Capital.
"We suspect several more had planned to list, but delayed their offerings amid the Covid-19 outbreak," Kennedy said in an email. "As we noted in our 1Q20 Review, China appears to be the first country emerging from the pandemic, so Chinese companies may also be first to return to the IPO market. However, these financial scandals do reputational damage to Chinese issuers broadly."
On April 2, Luckin Coffee announced an internal investigation found the chief operating officer fabricated sales by about 2.2 billion yuan ($314 million) from the second to fourth quarter of last year. Shares have plunged more than 80% since the latest disclosure this month, and have been halted for pending news for roughly the last week.
About two months ago, investment firm Muddy Waters said it was shorting, or betting on a decline in the price of the stock, based on an anonymous report that alleged the coffee company fabricated financial and operating numbers beginning in the third quarter of last year. Luckin said at the time the allegations were "misleading and false."
The company did not respond to a request for comment. Representatives from Nasdaq and the New York Stock Exchange were not available for interviews for this story.
Other high-profile U.S.-listed stocks have come under scrutiny in the last several days.
Shares of video streaming site iQiyi, which is majority-owned by search giant Baidu, dipped last week after a report by Wolfpack Research alleged the video company inflated revenue by about $1 billion to $2 billion. Muddy Waters said it assisted Wolfpack with the report and is also betting against iQiyi's stock. The Chinese company said in a statement it believed the report contained "errors" and was "misleading."
Tutoring company TAL Education announced last week it suspected an employee of inflating sales for its "Light Class" product, which accounts for about 3% or 4% of the company's total estimated revenues. TAL said the employee has been taken into custody by the local police. More here.