By: Denise Simon | FoundersCode.com
Enter the George Soros money and influence:
MoveOn's statement on the cancellation of the Trump rally in Chicago. pic.twitter.com/eppJOy1O81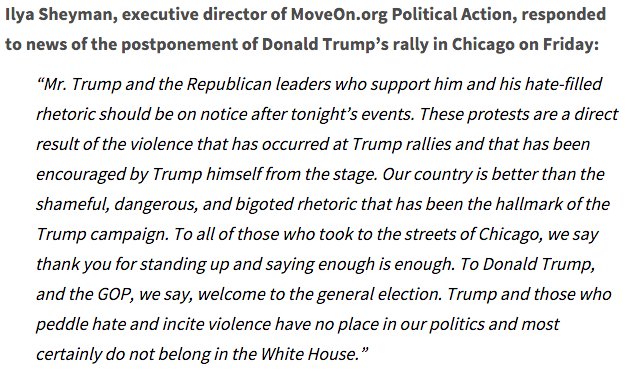 ****** There was a time when a financial relationship existing between Trump and Soros, but Soros later successfully concocted a plan of economic and social engineering warfare on America. March 11, 2016 in Chicago was a display of MoveOn's efforts to interject in the political process and free speech to great affect.
Sanders released three television commercials Friday in Illinois. One included Cook County Commissioner Jesus "Chuy" Garcia, who lost Chicago's mayoral race last year, but forced a runoff contest in Mayor Rahm Emanuel's re-election bid. Emanual, a former White House aide, endorsed Hillary Clinton.
Sanders blasted Emanuel for his controversial push to close dozens of Chicago schools in 2013 over poor performance. Sanders said, "I want to thank Rahm Emanuel for not endorsing me."